Baku may become a key link between Asia, Europe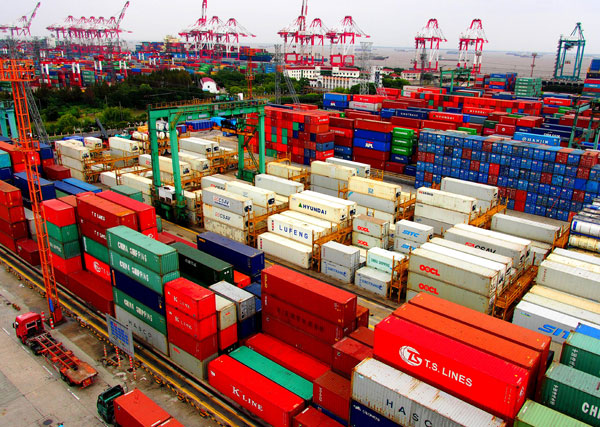 By Nigar Orujova
Transportation from Asia to Europe occupies a very important place in the world trade and Baku may become a key element in these shipments.
This statement was made by Ahmed Sultan bin Sulayem, chairman of Dubai Ports Customs and Free Zone Corporation at a meeting with head of the Azerbaijani State Customs Committee Aydin Aliyev on September 16.
"We provide rail freight from China to Europe via Kazakhstan and Russia. The sea route from China to Rotterdam, Netherlands, takes 42 days. By railway, cargo from China shipped to Rotterdam takes about 20 days. I would also like to note that the government in Kazakhstan has created a free economic zone, Hormos. Chinese products are delivered to this zone and from there to Aktau. I believe that Baku is the missing part of the puzzle in traffic to Europe. Loads from Baku via the Baku-Tbilisi-Kars railway will be delivered faster to Europe," said Sulayem.
He noted that BTK will deliver the goods directly to Europe, bypassing the port of Batumi, and stressed the importance of Baku as a key transportation hub.
Sulayem also stressed the successful cooperation between Azerbaijan and the UAE both in the field of cargo transportation and the carriage of passengers.
"There are long-term partnerships between our countries. We are very pleased with the economic achievements of Azerbaijan in recent years, and we are interested in close cooperation with your country. We want Azerbaijan also becomes a member of our projects," he added.
The Baku-Tbilisi-Kars railway is being constructed after an agreement was signed by the governments of Georgia, Azerbaijan, and Turkey. The project is being financed by the State Oil Fund of Azerbaijan and slated for completion this year.
At its initial stage, the corridor will be able to accommodate one million passengers and 6.5 million tons of cargo, with the aim of ultimately reaching 17 million tons of cargo per year.
Historically, Azerbaijan has hosted various trade routes, including the world famous Great Silk Road. Today, the country is targeting a turn to becoming a transportation hub of the region due to its favorable geographic position.
At present, Azerbaijan plays a leading role not only in large-scale projects focused on the transportation of oil and gas, but transport as well, which are designed to create a global transport corridor from China to Europe.
Azerbaijan interested in Dubai model of customs
Aydin Aliyev says Azerbaijan is interested in using the Dubai model of customs regulation at the Baku International Sea Trade Port located in the settlement of Alat.
The freight turnover at the largest and most modern Alat port in the Caspian Sea will be 10 million tons and 40,000 containers at the initial stage. In the future, it is planned to increase the freight turnover to 25 million tons for which a container yard will be built for one million containers.
The port will be constructed in three stages. The first stage was completed in the Alat settlement in June 2014.
"Customs management is very developed in Dubai and the presentation of the Dubai model of customs regulation piqued our interest," said Aliyev.
"It is known that a major part of the goods imported to Dubai is delivered through the port," he said. "A large modern port is under construction in Baku as well and when it is fully operational, it will be very useful for us to learn from the experience of Dubai," he added.
The head of the Customs Committee said there are great prospects for developing the relations between Azerbaijan and the UAE.
Azerbaijan and the UAE are bound by many factors, he said, adding that first of all, it is the deep political unity and mutual support within international organizations.
"Our countries also have well-developed economic relations," he said. "The official trade turnover between Azerbaijan and UAE is not so high, however, a large volume of goods purchased by individuals is delivered from Dubai to Azerbaijan."
Moreover, Aliyev said that the two countries signed an agreement on mutual assistance in 2011.
"All this creates great opportunities for further developing our relations," he added.
The trade turnover between Azerbaijan and the UAE stood at $36.13 million in January-July 2015 and $33.23 million of this amount consisted of imports from Azerbaijan, according to the State Customs Committee of Azerbaijan.
__
Nigar Orujova is AzerNews's staff journalist, follow her on Twitter: @o_nigar
Follow us on Twitter @AzerNewsAz