Azerbaijan to prevent 'artificial increase' of tourism prices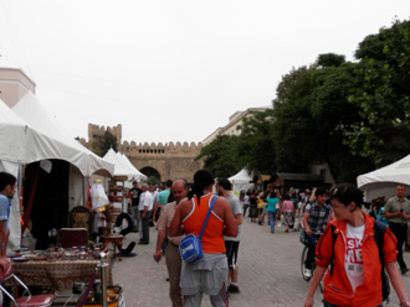 By Nigar Orujova
Azerbaijan will not allow an artificial increase of prices for service packages of travel agencies for the summer season, head of Azerbaijan Tourism Association (AzTA) Nahid Bagirov said on Monday.
But Bagirov said such an increase has not been observed yet. Usually travel agencies raise fees for services when prices rise in hotels.
All prices are available online and customers can check them to make a decision. Thus, companies might lose their customers if they increase the prices, Bagirov said.
The quality of services improves in both hotels and tourism companies in the country year on year, he added.
Speaking about Azerbaijani tourists' preferences during the summer season, Bagirov noted that they mostly travel to Turkey, especially Antalya.
Travel agencies have already announced discounts for the summer season, he added.
Those wishing to rest in Turkey in summer can enjoy a 15-20 percent discount if they book hotels. Having booked a room now, the tourist can stay in a five-star hotel in Turkey for 560 manats ($713) per person for a week (in a double room), Bagirov said.
According to him, the prices of packages for those seeking to have a vacation in the country or abroad are the same as last year.
"Indeed, some hotels in Turkey have increased the price of services, while others have reduced it. But it is important to note that the prices are the same as last year."
This year there will be a slight increase in flights from Baku to foreign countries, particularly Turkey. In particular, two flights a day will be carried out to some cities of Turkey this summer, Bagirov said.
"Flights to some cities of Turkey will be cheaper this year due to an increase in their number. We have analyzed the prices and came to the conclusion that the prices are normal in general," Bagirov said.
Speaking about tourist attractions in Azerbaijan, Bagirov said that so far people have preferred Gabala and Lankaran regions, because of four- and five-star hotels available there. However, this year local tourists will also be able to stay in the summer and winter tourist complex Shahdag located in the northern Gusar region.
According to him, an increase in the number of hotels will increase competition, bringing down the prices.
Tourism revenues
The development of the domestic tourism sector brings more revenues to the country's coffers.
According to the balance of payments posted on the website of the Central Bank of Azerbaijan (CBA), the cost of tourism services provided to foreign nationals in Azerbaijan totaled $2.4 billion in 2012, which is 1.9 times more than in 2011.
Some 39.5 percent of these services were provided to non-residents visiting Azerbaijan on business trips.
Tourism services provided to the residents of Azerbaijan by foreign countries increased 1.5-fold compared to 2011 to reach $2.5 billion. Private spending accounts for 63.1 percent of the amount.
Online registration
The number of hotels in Azerbaijan is on the rise as well. However, only 260 of the 514 operating hotels have obtained licenses.
At present, 221 licensed travel agencies operate in the country.
Applications for licensing tourism companies and hotels are carried out online in Azerbaijan, the tourism department of the Culture and Tourism Ministry said.
Online application for licensing started on October 1, 2012, and the system has fully operated since March 1, 2013.
Online registration will simplify licensing of legal entities and individuals involved in the tourism and hotel business, increase transparency of the licensing procedures, at the same time creating an electronic database of travel agencies, hotels and hotel-type facilities, the ministry said.
The applicant is notified in case of a lack of some documents electronically. The applicant receives an answer within 15 days from the complete submission of documents and payment of the required state fee.