Salmon farmers eschew risky growth as demand raises prices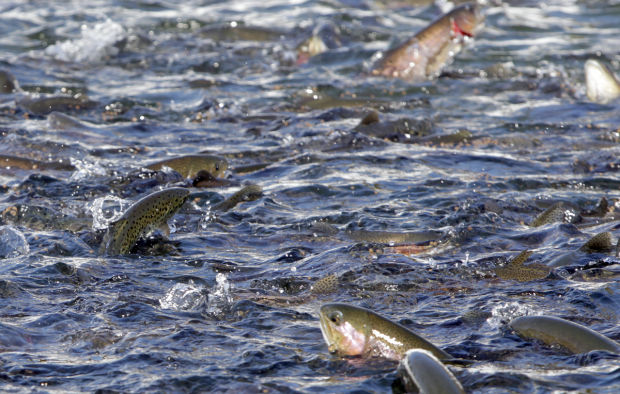 By Bloomberg
The world's top salmon farmers say they'll resist the temptation to embark on the kind of growth that led to disease and cutbacks last decade and are content to reap a period of high prices fueled by rising demand.
Norway's Marine Harvest ASA and Cermaq ASA, the largest farmed salmon producers, are operating near peak capacity and expect supply to trail growing global demand from middle-income earners seeking healthier diets. Continued outbreaks of sea lice that lead to other illnesses in the fish make governments reluctant to issue new farming licenses.
"It's smart to find solutions to these problems first, then grow the industry," Marine Harvest Chief Executive Officer Alf Helge Aarskog said in an interview from southern Chile where company and government officials met last week. "If it grows too fast, biology comes back to haunt you."
Chile's salmon output surged in the 1990s as Norwegian and local business groups discovered optimum conditions for farms in more than 1,000 miles of coastline dotted with fjords and inlets. Then in 2007 an outbreak of infectious salmon anemia ravaged stocks with suppliers losing contracts with buyers including Wal-Mart Stores Inc. That led to tougher regulations including widening distances between farms.
'Risky Growth'
Marine Harvest gained 0.7 percent to 91.95 kroner as of 10:19 a.m. in Oslo.
With producers still struggling to combat rising sea lice levels, Chile won't issue new licenses in the Aysen and Los Lagos regions, where most of the country's salmon industry is based, Jose Miguel Burgos, head of government fisheries agency Sernapesca, said in an interview in Puerto Varas, Chile.
The industry's leading salmon farmers met in the Chilean town to collaborate on reducing sea lice, which was the precursor to the ISA virus in Chile. The lice attach themselves to the fish making them vulnerable to other illnesses.
"It's much more valuable for us to keep doing what we're doing rather than embarking on risky growth," Victor Puchi, chairman of AquaChile SA, the largest Chilean owned farmer, said in an interview. "We have the obligation to show that we have improved production and sanitary standards."
Global Supply
Global supply probably will increase 3 percent next year while demand is set to expand by as much as 7 percent, Puchi said, as consumers seek proteins rich in Omega-3 fatty acids that lower cholesterol levels. The industry may be about to enter a "golden period" according to Stockholm-based Nordea.
"Consumers are swapping fast food for healthier meals because of obesity levels," Puchi said. "We have a high value, healthy product. The demand is there."
The Global Salmon Initiative, an association of companies representing 70 percent of world supply, expects salmon demand to double by 2020, said Jon Hindar, chief executive officer of Cermaq and chairman of GSI. Producing farmed salmon consumes less energy and feedstock than beef or lamb, Hindar said.
Salmon production has tripled since the 1980s with most of the world's output coming from fjords and inlets in Chile, the Faroe Islands, Scotland and Norway. Today, producers are homing in on nascent markets such as Brazil and Russia.
Norwegian salmon farmers have recovered from a sell-off in August when Russia, one of the Nordic country's biggest export markets, imposed an import ban on foods in retaliation for sanctions over the conflict in Ukraine.
More Deals
AquaChile is purchasing smaller rival Invermar SA and may pursue other acquisitions, Puchi said. Consolidation will help farmers overcome sanitary problems as companies still hampered by high debt following the ISA crisis sell out, he said.
Marine Harvest is also open to more deals after acquiring bankrupt Chilean farmer Acuinova SA this year, Aarskog said. The Oslo-based company controlled by shipping billionaire John Fredriksen will add 40,000 tons of capacity as it buys Acuinova for $120 million.
Mitsubishi Corp. will become the second-largest salmon farmer after acquiring Cermaq in a $1.4 billion deal. Japan's biggest commodities trader is already the world's largest aquaculture trader and has deep knowledge of farmed shrimp and tuna markets that it can apply to salmon, Cermaq's Hindar said.
"If I were to invest today wh a 100 year perspective, I would invest in the aquaculture sector," Hindar said.
A cycle of high salmon prices began in 2013 and will continue until 2017 on limited supply, Jeroen Leffelaar, global head of animal protein at Rabobank, said in a presentation at the conference.
"The high price environment is here to stay," Leffelaar said. "Profitability will be strong."