Fuad Nagiyev: Gastro tourism turns into key direction of service sector [PHOTO]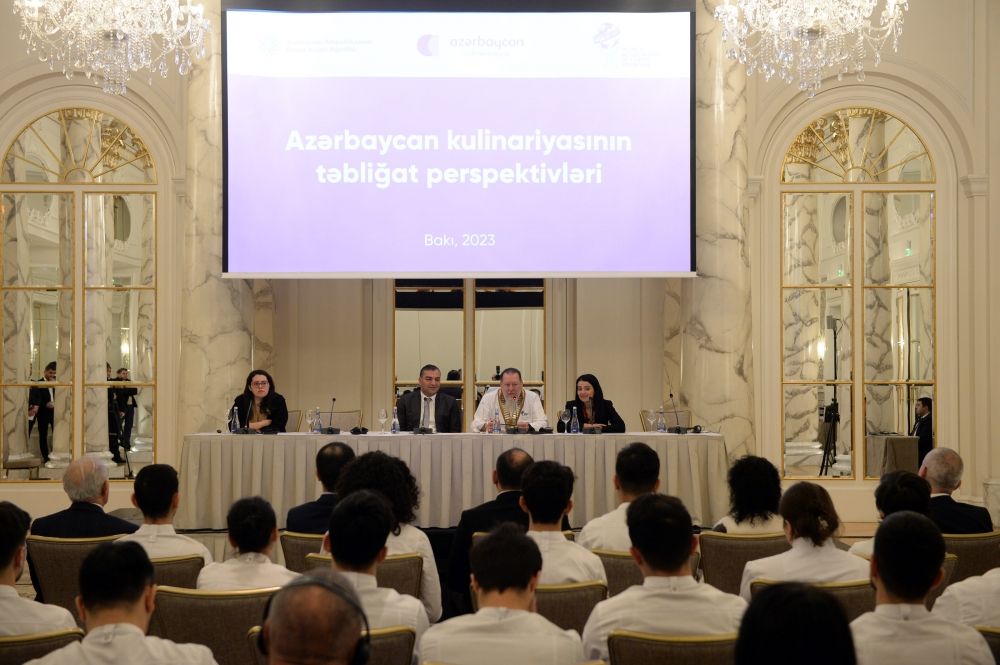 Gastro tourism is gaining ground worldwide, including in Azerbaijan, Azernews reports, adding that with so many culinary delights, the Land Of Fire has all the potential for becoming a major food tourism destination.
As Azerbaijan's State Tourism Agency Chairman Fuad Nagiyev has recently noted at a conference on "Promotional prospects of Azerbaijani cuisine", gastro tourism has turned into one of the key tourism directions in recent years and multidirectional work is currently underway to promote Azerbaijan as a gastronomy destination.
In his speech, Fuad Nagiyev stressed the role of gastronomic tourism in the promotion of national cuisine and Azerbaijan's cultural heritage.
"Azerbaijan has rich and ancient culinary traditions. It is no secret that the Azerbaijani cuisine is distinguished by its unique tastes. Today, gastro tourism is developing worldwide as an interesting and different tourism direction. The number of tourists who are interested in gastronomic tours is increasing worldwide. Tourists who want to get acquainted with the national cuisine of the country are visiting to discover new tastes. Therefore, gastro tourism development is of great importance," said Nagiyev.
He further emphasized that Azerbaijan's rich nature, favorable climate, and fertile soil have a direct impact on the taste and variety of harvested products. This potential creates ample opportunities for Azerbaijan to be recognized as a gastronomic destination.
"Our main goal is to improve national cuisine on the basis of world experience, international standards, and directions. Our partnership with the World Association of Chefs Societies (Worldchefs) has been successfully developing in this regard. We highly appreciate the cooperation of Worldchefs and its contribution to world gastronomy. Over recent years, multidirectional efforts have been made to promote Azerbaijan as a gastronomic destination. Among them I can mention the formation of a national chefs team in accordance with international standards, research on Azerbaijani food samples, gastro-themed tourism products development as well as the promotion of Azerbaijani cuisine at all international events where our country is represented," said Nagiyev.
The State Tourism Agency chairman underlined that such projects are important in terms of identifying forgotten and ancient dishes, protecting their food biodiversity through achieving recognition of local gastronomy.
Since gastronomic tourism combines two very important areas for Azerbaijan- tourism, and agriculture, it can contribute to the support of small entrepreneurship and family businesses in the districts. As a result, the income of the local population will increase.
"As an agency, like all public organizations operating in the tourism field, we also support public associations operating in the culinary field. As we always keep saying, our strength lies in our unity. We must work to hit the same target. We believe that today's conference is especially important in this regard," he concluded.
Speaking about the importance of the event, Deputy Chairman of the State Tourism Agency Azada Huseynova emphasized that holding such conferences will help to eliminate existing deficiencies in this sector.
"Gastro tourism development contributes to the promotion of not only national cuisine, but also our rich material and cultural heritage, historical traditions around the word. The National Culinary Center under the State Tourism Agency has carried out certain major works for the research, protection, and promotion of the national cuisine samples. Currently, work is being continued in the direction of supporting the activities of young professional chefs, through education in the culinary field. At the same time, the State Tourism Agency mainly focuses on conveying Azerbaijani rich culinary traditions to the world, strengthening propaganda work in this direction through expanding cooperation with international organizations. As you know, the National Culinary Congress was held last October. We think that the congress successfully promotes collaboration and action as a platform that brings together cooks and culinary chefs," she said.
Sector manager of the Azerbaijan Tourism Bureau Sakina Asgarova stressed the importance of the conference and said that such events play an important role in keeping national culinary traditions alive.
She highlighted the work done to promote Azerbaijan as a gastronomic destination, adding that the conference aims to assess the prospects of international cooperation and gastro-tourism development.
---
Follow us on Twitter @AzerNewsAz