Azerbaijani grandmasters struggle for World Cup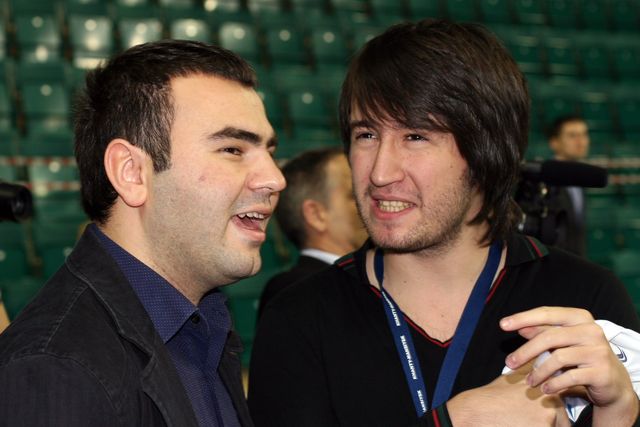 By Nazrin Gadimova
Azerbaijani grandmasters are competing in the 2013 FIDE World Chess Cup in Tromso, Norway.
Azerbaijan is represented by Shahriyar Mammadyarov, Teymur Radjabov, Vasif Durarbayli and Eltaj Safarli. In the first stage Mammadyarov won Samy Shoker from Egypt, while Radjabov played a draw with Jorge Cori from Peru. Durarbayli also played a draw with Ukrainian player Anton Korobov, while Safarli lost to Bassem Amin from Egypt.
Shahriyar Mammadyarov will face Russian Maxim Matlakov, while Teymour Radjabov will clash with American Lazaro Bruzon in the 1/32 final round of the cup to be held on August 15.
The winner and the runner up of the World Cup 2013 will qualify to the Candidates stage of the World Championship cycle 2012-2014.
Shahriyar Mammadyarov represented Azerbaijan at the Chess Olympiads in 2000, 2002, 2004, 2008 and 2010. In 2009, he won a gold medal for Azerbaijan at European Team Chess Championship, having won a bronze medal in 2007 and silver in 2011.
Teymur Radjabov defeated Garry Kasparov in Linares and Viswanathan Anand in Dortmund in 2003, reached the semifinals at the World Chess Championship in Tripoli in 2004, won the tournament in Dos Hermanas (Spain) and took second place at the Europe championship in Warsaw in 2005, as well as shared second place in the super tournament in Linares in February 2006, defeating FIDE World Champion Veselin Topalov.
The Chess World Cup 2013, a 128-player single-elimination chess tournament, has started on August 11 and will run till September 5, 2013. Matches consist of two games (except for the final, which consists of four). Players have 90 minutes for the first 40 moves followed by 30 minutes for the rest of the game with an addition of 30 seconds per move from move one.