3 December 2017 10:02 (UTC+04:00)
3 508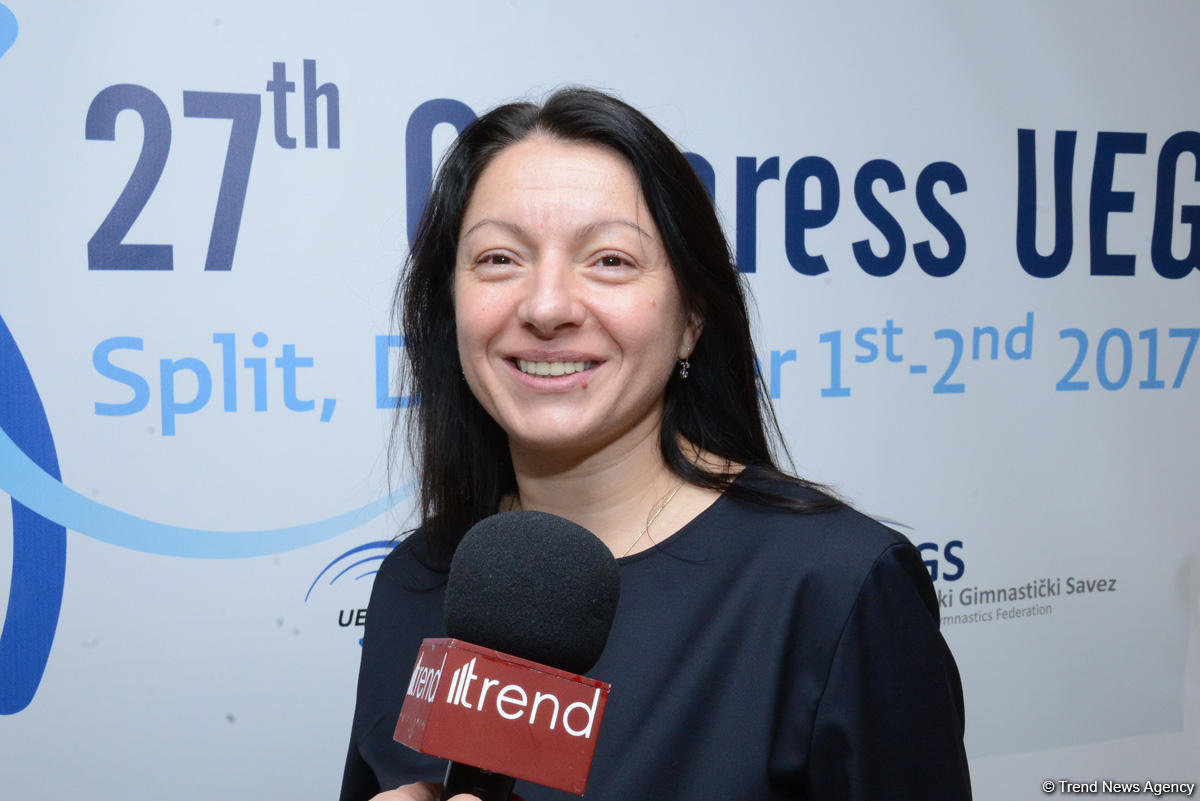 By Trend:
The election of Secretary General of Azerbaijan Gymnastics Federation (AGF) Farid Gayibov as the president of the European Union of Gymnastics (UEG) is first of all the victory of Azerbaijan, Mariana Vasileva, the head coach of the Azerbaijani national rhythmic gymnastics team, told Trend Dec.2.
"I'd like to thank President Ilham Aliyev and First Vice President Mehriban Aliyeva for their support and trust. That allowed us to believe that Azerbaijan is a strong country. We have excellent conditions for the development of gymnastics, and I think that this helped Farid Gayibov' election as the president of the UEG," she said.
This election showed that Europe believes in Azerbaijan's leadership, she said.
"Now we need to justify the hope and trust placed on the country. I think this will also give impetus to the further development of Azerbaijani gymnastics and Azerbaijani sports. , so that to go forward and only forward," said Mariana Vasileva.
She further added that Farid Gayibov has been in the Azerbaijan Gymnastics Federation for 15 years already and he has a lot of experience in organizing and holding major competitions.
"He will bring this experience to Europe on January 1, 2018, when he will officially assume the post of the UEG president. European gymnastics and all 50 member countries of the organization will demonstrate that Europe is able to win as the strongest and the single continent in the world. I believe that Azerbaijan has become so popular that it is known not only in Europe, but all over the world, also because of sport. This became possible thanks to the efforts of President Ilham Aliyev, who is also the president of the National Olympic Committee. And this is very important, because sport is the future. Of course, the role of the First Vice President Mehriban Aliyeva, who headed the organizing committees of the first European Games and the fourth Islamic Solidarity Games, is also very important, showing that the ladies in Azerbaijan can conduct both European and Islamic games and can be at the head of the sport. Many Thanks to Mehriban Aliyeva and vice-president of the Federation of Gymnastics Altai Hasanov for their support of Farid Gayibov and all of us. We will try to justify this trust," said Vasileva.
Azerbaijan Gymnastics Federation Secretary General Farid Gayibov was elected as the President of the European Union of Gymnastics (UEG).
The 50 member Federations of the UEG elected the new UEG authorities at the 27th Congress in Split, Croatia Dec.2.
Gayibov gained 28 votes, leaving behind Edvard Kolar, President of the Management Board of the Slovenian Sports Lottery, who received 20 votes. Gayibov will replace Georges Guelzec (FRA), who led the UEG since 2009.
---
Follow us on Twitter @AzerNewsAz
Related News