17 July 2016 09:17 (UTC+04:00)
1 244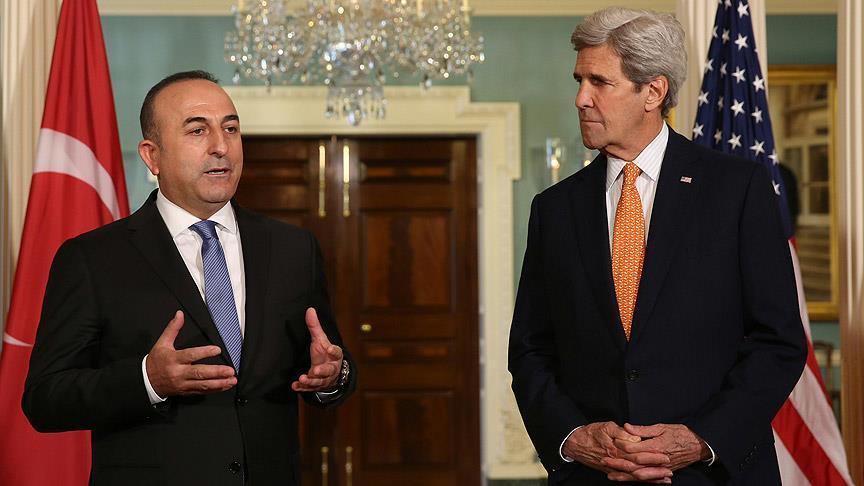 Foreign Minister Mevlut Cavusoglu talked with US Secretary of State John Kerry on the phone Saturday about the judicial process of the extradition of Fethullah Gulen.
Earlier on Saturday, Kerry said the United States will help Turkey investigate a failed coup and invited Ankara to share the evidence it has against U.S.-based controversial fugitive imam Fethullah Gulen.
Speaking in Luxembourg, Kerry said Washington had not yet received a formal extradition request for the expatriate cleric, but added: "We fully anticipate that there will be questions raised about Mr Gulen."
Gulen is accused of giving orders to generals loyal to him to launch a military coup. The army closed down some bridges in Istanbul, took the Chief of General Staff Gen. Hulusi Akar captive and took over some private and state-owned television channels.
With the majority of the military opposed to their plans, the police department adamantly standing by the elected democratically government and the people flooding the streets to prevent their voices from being silenced, the coup plotters were forced to surrender in the early hours of Saturday.
Only a day before the coup attempt, the chief Prosecutor's Office readied the file on Gulenist Terrorist Organiation (FETO) leader Fethullah Gulen his and his followers' illegal activities and sent an indictment to the Justice Ministry to formally request extradition of Gulen from the U.S.
Apart from coup attempts, the FETO is accused of fraud, money laundering, illegal wiretapping, blackmail and imprisoning hundreds of people with false evidence. He and dozens of prominent Gulenists face life sentences on terrorism charges.
Gulen and his followers are already standing trial in separate cases, but Gülen, 75, refuses to testify in Turkish courts or return to Turkey.
The fugitive imam also faces lawsuits brought by Ankara in the United States after Turkey hired a law firm for the legal process in that country.
The United States is among the favorite locations of Gulenists where they run several charter school chains, taxpayer-funded schools that attracted an FBI probe following allegations of fraud concerning federal grants. Along with Gulen, several well-known figures linked to the group live in the United States to avoid being charged in ongoing investigations against the FETO in Turkey.
--
Follow us on Twitter @AzerNewsAz
Related News