TAPI construction to last 3 years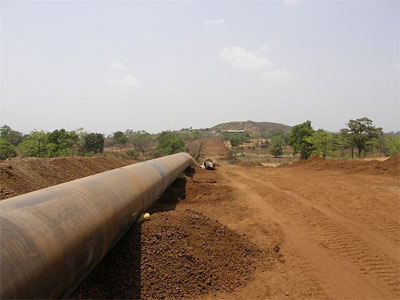 By Aynur Karimova
The construction of the Turkmenistan-Afghanistan-Pakistan-India (TAPI) gas pipeline project, with a proposed capacity of 33 billion cubic meters of natural gas per year, will last about three years, according to Chin Choon Fong, a senior advisor at the Asian Development Bank's Central and West Asia Department.
"The construction of the pipeline will begin after the consortium leader has resolved outstanding technical, financial and legal challenges. We estimate the actual construction period to take about three years," Fong told Trend.
The TAPI project will extend from Galkynysh field in Turkmenistan through the Afghan cities of Herat and Kandahar to its final point at a settlement on the Pakistani-Indian border.
The ADB was appointed as the transaction advisor for the TAPI gas pipeline project in November 2013. In that role, ADB advised on the establishment of the TAPI pipeline company as an integral part of the larger goal of identifying and selecting a commercial consortium leader to spearhead the construction and operation of the pipeline.
When selected, the commercial consortium leader will take a substantial stake in the company.
Fong also noted the feasibility study of the project was developed in 2008, and it estimated total cost of the pipeline's construction at $7.6 billion. But as of now, the figure is projected to exceed $10 billion.
In October 2014 the ADB, the transaction advisor for TAPI, awarded British Penspen Company a contract to carry out a feasibility study for the construction of the pipeline. Penspen awarded a sub-contract to the Netherlands-based Royal HaskoningDHV, an international engineering, consultancy and project management firm, to undertake the important environmental and social safeguards components of the study.
The technical feasibility study was initially expected to take six months, but it is not yet complete.
"This is a large and complex project, and it is difficult to give a precise date for the completion of this study. However, we expect the study to be ready in the near future," Fong said.
Experts believe that TAPI is not only a regional project envisaging the transportation of Turkmen gas, but also a global one.
The implementation of the project will strengthen Turkmenistan's independence, and its gas supplies to world markets will increase significantly.
TAPI is an opportunity to contribute to the stability of Afghanistan that could contribute to the rehabilitation process in the post-war country.
It will also create more job opportunities and provide Afghanistan with a guaranteed income from the transit.
"The security challenges were analyzed very carefully and plans have been developed to mitigate and overcome them," he said, adding that the consideration of the security aspects of the pipeline has been at the forefront of the planning process.
--
Aynur Karimova is AzerNews' staff journalist, follow her on Twitter: @Aynur_Karimova
Follow us on Twitter @AzerNewsAz