18 April 2014 16:32 (UTC+04:00)
2 668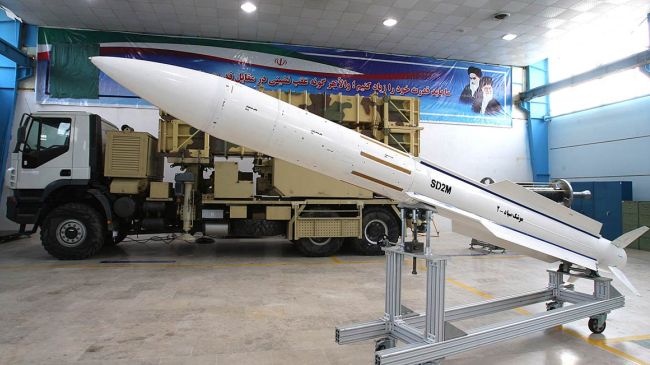 By Sara Rajabova
Iran unveiled its domestic military achievements on the Day of the Armed Forces.
All units of the Iranian Armed Forces and the Islamic revolutionary Guard Corps (IRGC) including Air Force fighters participated in a parade in front of the mausoleum of former Supreme Leader Ayatollah Khomeini, ISNA news agency reported.
Iranian President Hassan Rouhani and senior military commanders attended the ceremony.
During the parade, the upgraded models of home-made Zulfiqar, Samsam and Sabalan tanks, Akhgar and Moharram machine guns, Poush and Ghader mobile missile launchers, and Arash radar system were exhibited.
The unveiled six-barrel, 50-caliber machine gun "Moharram" has a firing rate of 2000 rounds per minute.
Another home-made 76-caliber, gatling-type machine gun "Akhgar" which was unveiled, has an effective range of more than 2 km and has a firing rate of 4000 to 6000 rounds per minute, according to some Iranian media outlets.
Iranian military officials have previously announced that the country will start mass production of the newly unveiled models of Zulfiqar and Samsam tanks.
Commander of Iran's Khatam al-Anbia Air Defense Base Brigadier General, Farzad Esmaili said the unveiled mobile launchers will increase Iranian defence system's capabilities.
Commenting on the Arash radar system, Esmaili said it is a long-range radar system, which has high capability of detecting targets in electronic warfare.
Esmaili further said Iran is developing a new version of the powerful and high-precision Sayyad (Hunter) missile to be mounted on indigenous S-200 missile defense systems.
He informed that Iranian defense experts are working on the development of Sayyad-3 missile.
Esmaili added that the mid-range, high altitude and solid-fuel Sayyad-2 missile has proven successful in locating and hitting even small aerial targets.
Sayyad-2 surface-to-air missile is said to have a maximum range of between 200 and 350 kilometers. It has been designed based on state-of-the-art technology, which can destroy different types of helicopters, drones and targets with small radar cross-section, high speed and maneuverability within its operational range. It was first tested in April 2011, and is currently in the Iranian Armed Forces' inventory.
Meanwhile, Iranian Navy Commander Rear Admiral Habibollah Sayyari said the indigenous Fateh (Conqueror) submarine will be unveiled in the current Iranian calendar year (ending March 20, 2015).
He said Iran has started building the Khalij-e Fars (Persian Gulf) destroyer, which can carry out operations in high seas and can be used to train naval staff in international missions.
He added that the construction of different types of Jamaran-class, Paykan (Arrow)-class and Bow (Kaman)-class destroyers is also underway.
In recent years, Iran has made major breakthroughs in its defense sector and attained self-sufficiency in producing important military equipment and systems.
Iran has so far launched different classes of indigenous advanced submarines including Fateh, Ghadir, Qaem, Nahang, Tareq and Sina.
The Iranian Navy put its first domestically-built destroyer, Jamaran, in the waters of the Persian Gulf in February 2010.
Iran held military drills attended by air forces and border troops just days before Day of the Armed Forces, which aimed to prepare for the military parade.
Since 1992, Iran has manufactured its own tanks, armoured personnel carriers, missiles, radars, boats, submarines and fighter planes. Iran also unveiled its first domestically-manufactured long-range Unmanned Aerial Vehicle (UAV) in 2010.
Iran has always stated that its military might poses no threat to other countries, stating that its defense doctrine is based on deterrence.
Related News