CU members to establish body to regulate financial market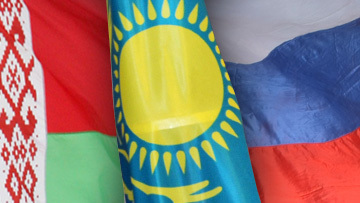 By Aynur Jafarova
Russia, Kazakhstan and Belarus are going to establish a supranational body to regulate the integrated financial market in 2025.
Russia, Kazakhstan and Belarus are the member states of the Customs Union.
The news was announced by chairman of the Kazakh National Bank Kairat Kelimbetov, Trend Agency reported on April 16.
"We [a negotiating group of Russian, Kazakh and Belarusian financiers] managed to agree that the harmonization of legislation in the area of financial markets will be carried out until 2025, and an appropriate supranational body that will regulate the financial market will be established in 2025," he said at a press-conference held in Astana.
Kelimbetov went on to note that "this body will be the regulator, rather than a single central bank."
The Customs Union was established in 2010. The purpose of the organization is to form a single customs territory within which no customs duties or economic restrictions are applied. The Single Economic Space of the Customs Union started operating on January 1, 2012.