28 October 2013 17:12 (UTC+04:00)
399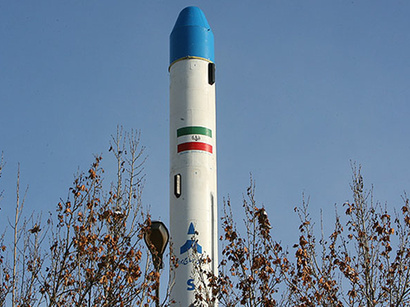 Iran Space Agency (ISA) deputy head Hamid Fazeli said that Iran's home-made satellite carrier Simorgh is under construction and will be launched next solar year (will be started on March 21, 2014),IRNA news agency reported.
He went on to say that Iranian Zafar, Tolou, Autsat and Amirkabir satellites scheduled to be carried by Simorgh.
The Simorgh is the main Iranian satellite carrier project, Fazeli said.
Simorgh is an Iranian expendable small-capacity orbital carrier rocket, which has a length of 27 metres, and weight of 85 tons.
Its first stage is powered by four main engines, each generating up to 29,000 kilograms (64,000 lb) of thrust, plus a fifth which will be used for attitude control, which provides an additional 13,600 kilograms (30,000 lb).
Simorgh is capable of putting a 60-kilogram (130 lb) payload into a 500-kilometre (310 mi) low Earth orbit.
The engine could be used in future rockets capable of carrying 700-kilogram (1,500 lb) satellites into 1,000-kilometre (620 mi) orbits.
Fazeli earlier said that Iran plans to launch three indigenously designed and manufactured satellites into orbit in six months.
Related News