Rohani warns time for resolution of nuclear issue not 'unlimited'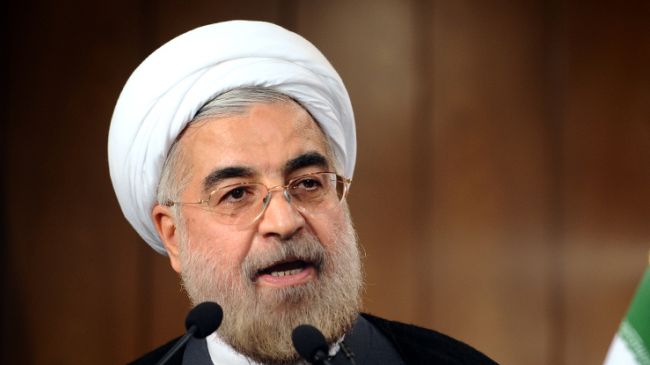 By Sara Rajabova
Iranian President Hassan Rohani warned that time to resolve the Western dispute over Tehran's nuclear energy program will not be "unlimited."
"We are ready to hold talks at any level to settle the nuclear energy program issue, but the world should know that the timeframe for resolving the nuclear issue will not be unlimited," Rouhani said.
He advised the world powers to use the opportunity that the nation created in the last presidential election.
"We will also use this opportunity and we hope that we'll be able to solve these problems step by step," Rouhani added.
He reiterated that no one can strip the Iranian nation of its inalienable rights, saying one of the rights of the Iranian nation is to enrich uranium on its own soil, within the framework of international law and under the supervision of the International Atomic Energy Agency (IAEA).
President Rouhani underscored that Iran's rights must be recognized.
He also added that Iran is fully prepared for holding serious talks with the world, the P5+1 (the five permanent members of the UN Security Council plus Germany) and also the IAEA.
Rouhani has officially assigned the Foreign Ministry to deal with the country's nuclear issues with both the UN nuclear watchdog IAEA and the P5+1 group.
The new round of negotiations between Iran and the IAEA will be held in Vienna on Sept. 27.
Besides, Iranian Foreign Minister Mohammad Javad Zarif and Ashton agreed to meet on the sidelines of a UN General Assembly session in New York in late September to discuss a resumption of negotiations over Iran's nuclear issue.
Iran and the P5+1 have held several rounds of talks on a range of issues, with the main focus being on Iran's nuclear energy program.
The two sides wrapped up their latest round of negotiations on April 6 in the Kazakh city of Almaty. An earlier meeting had been held in Almaty on February 26-27.
The West suspects Tehran's nuclear program may be aimed at developing nuclear weapons capability, but Iran insists it is purely for peaceful purposes.
Iran reiterates that its main demand is that its right to uranium enrichment, as stipulated in the NPT, be recognized.