3 September 2013 19:45 (UTC+04:00)
900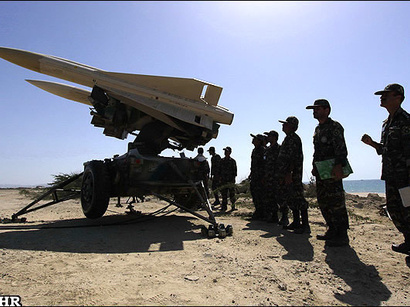 By Sara Rajabova
Iran has unveiled its latest achievements developed by experts at the Iranian army's Khatam al-Anbiya Air Defense Base, Press TV reported.
Troposcatter Communication System, which employs the method of transmitting and receiving microwave radio signals over considerable distances, was among the equipment unveiled during a ceremony attended by Commander of Khatam al-Anbiya Air Defense Base Brigadier General Farzad Esmaili on September 3.
The systems have been manufactured jointly by the Khatam al-Anbiya base and Iran's Defense Industries Organization.
The Troposcatter Communication System which is used in air defense action works on a tropospheric scatter method.
Tropospheric scatter is a method of transmitting and receiving microwave radio signals over long distances.
Another indigenous achievement, the Observer 32 system, was also unveiled during the ceremony. The system enables the sentries of the base to send accurate data about any aircraft approaching the base without using routine communication systems.
In August, Esmaili lauded Iranian experts' unsparing efforts of achieving self-sufficiency in the production of the required equipment and announced that at least 15 new air defense achievements will be unveiled in the coming days.
He noted that Iran has also produced the Sepehr radar system and it will be equipped soon. According to him, this radar system covers an approximate 2,500 kilometres area.
Last week, Esmaili said the Khatam al-Anbiya base planned to unveil a number of its achievements on September 22, which marks the beginning of the Sacred Defense Week, and the remaining will be displayed on April 18, 2014, on the Iranian Army Day.
Meanwhile, head of the Iranian Navy's Industrial Research and Self-Sufficiency Organization Admiral Ali Gholamzadeh said that Iran is testing its new naval long range phased array radar system 'Asr', Fars news agency reported.
He said the system has been manufactured domestically, adding that the radar will be soon installed on some naval ships.
Gholamzadeh went on to note that Iran will soon unveil its new defense technology achievements, including surface-to-air missiles.
He added that Iran will inaugurate the Sahand destroyers next year.
In recent years, Iran has said that it has self-sufficiency in essential military hardware and defense systems.
Tehran established an arms development program during the Iran-Iraq war to counter the weapons embargo imposed on it by the US and its Western allies. Since 1992, Iran has manufactured its own tanks, armored personnel carriers, missiles, radars, boats, submarines and fighter planes.
Iran successfully tested a homemade radar evading UAV with bombing capabilities in June 2009.
In 2008, Iran's Defense Industries launched production lines of two home built fighter jets, namely Saeqeh and Azarakhsh.
The Iranian army recently test-fired different types of newly-developed missiles and torpedoes and tested a large number of its domestic weapons, tools and equipment, including submarines, military ships, artillery, choppers, aircraft, UAVs and air defense and electronic systems during massive military drills.
Iran has repeatedly stated that its military might poses no threat to other countries, reiterating that its defense doctrine is based on deterrence.
Related News