PKK terror group sympathizers launch new provocation in Vienna against Turkish president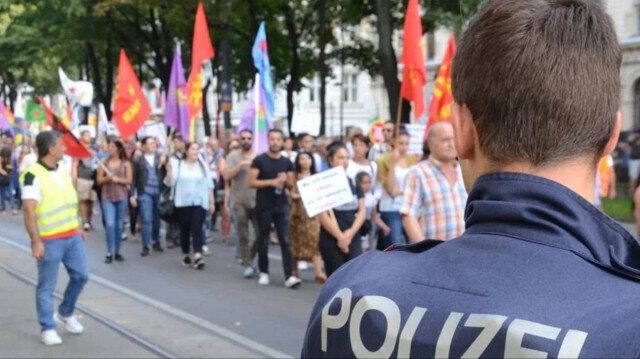 The Austrian capital Vienna was subjected to yet another provocation by PKK terror group sympathizers against the Turkish president.
Using a projector, the terror group sympathizers on Monday showed insulting slogans and visuals targeting Turkish President Recep Tayyip Erdogan on the facade of the Hofburg Palace, which is used as a convention center by the Organization for Security and Cooperation in Europe (OSCE).
Slogans such as "Overthrow the dictator," and "Erdogan, burn in hell," were shown on the front of the palace, along with deliberately distorted and roughly fragmented pictures of the president.
The terrorist group sympathizers also shared images and video footage of their provocation via social media.
In its nearly 40-year terror campaign against Türkiye, the PKK — listed as a terrorist organization by Türkiye, the US, the UK and the EU — has been responsible for the deaths of more than 40,000 people, including women, children, and infants. It also has a branch in northern Syria known as the YPG.
In recent months, insults and provocations against the Turkish president – including hanging him upside down in effigy – have been seen in several European countries, with Türkiye lodging strong diplomatic protests afterward.
On Sunday, the Turkish House in New York City, a building situated opposite the UN which houses Turkish diplomatic missions, was attacked by a person or persons unknown. Erdogan has urged the US to immediately apprehend the "terrorist" responsible for the attack.
---
Follow us on Twitter @AzerNewsAz