Turkey, Iran mull bilateral, regional issues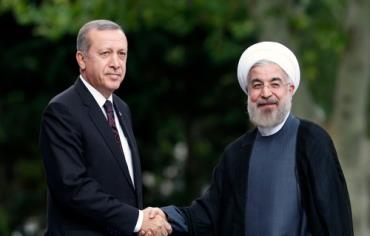 By Kamila Aliyeva
A high-level meeting of Turkish President Recep Tayyip Erdogan and his Iranian counterpart Hassan Rouhani was held on October 4 in Tehran.
The meeting focused on regional situation, with specific focus on Syria and Iraq, bilateral political relations as well as trade and business ties.
During a joint press conference which followed the closed-door talks, Rouhani, who was speaking first, noted that Iran and Turkey, as two friendly Muslim states, are the anchors of regional stability.
Addressing the conference, he said that increasing the ethnic and sectarian separatism are the plans of outsiders, and that the efforts of Turkey, Iran and Russia, in trilateral cooperation, are needed for establishing peace in war-torn Syria.
Regional issues including the latest development in Syria and Northern Iraqi Kurdish autonomous region were discussed during the meeting, according to Rouhani.
Tehran and Ankara are against the moves aimed at partitioning the region, he said, adding that Iran and Turkey seek security and stability of the region.
"Tehran and Ankara agreed to confront disintegration of Iraq and Syria. Fighting terrorism, under any name, among main goals of Iran and Turkey," the Iranian president said adding that Iran, Turkey and Iraq have no choice rather than taking serious measures to secure their strategic plans.
Both presidents drew particular attention to the regional developments in Iraq after the Erbil independence referendum, asserting that the referendum was illegitimate and that Iraq's territorial integrity is important for regional stability.
The Kurdish Regional Government's (KRG) held a controversial independence referendum in northern Iraq, including areas disputed between Erbil and Baghdad, on September 25. Election authorities in Kurdistan announced that the independence referendum passed with 92 percent support.
Along with Iraq, Iran and Turkey - countries with Kurdish minorities - have all denounced the referendum as a threat to the stability of a region already beset by conflict, while the United States has expressed similar disquiet.
In his speech, Rouhani further hailed the expansion of bilateral ties between in recent years noting that both countries will use national currencies in transactions to expand economic ties.
The two sides agreed that three border checkpoints to work 24 hours a day to boost transit between Iran and Turkey, according to the Iranian president.
Moreover, following the talks it was decided that Iran will facilitate investment possibilities for Turkish investors and the sides are expected to boost bilateral cooperation in oil, gas and tourism sectors.
Turkey expressed readiness to buy more gas from Iran, Rouhani said, adding that meetings will be held next week to discuss the details.
Addressing the press conference, Erdoğan also confirmed that "all regional matters were on the agenda" of the meeting which also discussed the development of military, economic and political relations.
The Turkish president noted that relations between Iran and Turkey are becoming stronger as well. Despite the fact that Ankara and Tehran planned to increase the trade turnover up to $30 billion, currently, the two countries' trade turnover totals $10 billion, he added.
"Turkey is also interested in opening Turkish banks in Iran," he said.
Erdogan was accompanied to Iran by a high-level delegation, which included Foreign Minister Mevlut Cavusoglu, Economy Minister Nihat Zeybekci, Energy and Natural Resources Minister Berat Albayrak, Trade and Customs Minister Bulent Tufenkci, Interior Minister Suleyman Soylu, Culture and Tourism Minister Numan Kurtulmush and Justice and Development Party (AK Party) Deputy Chairman Mehdi Eker.
Iran and Turkey are considered to be regional rivals but have recently sought to maintain a pragmatic relationship, with the Islamic Republic strongly supporting Erdogan after last year's failed coup.
The two governments have taken opposing sides in the six-year war in Syria but relations have improved this year with both countries joining Russia as co-sponsors of peace talks in Astana.
Iran and Turkey also both share sympathy with Qatar in a diplomatic rift between the Gulf emirate and its neighbors which erupted in June.
---
Kamila Aliyeva is AzerNews' staff journalist, follow her on Twitter: @Kami_Aliyeva
Follow us on Twitter @AzerNewsAz