Baku-Tbilisi-Erzurum pipeline blasted (UPDATE)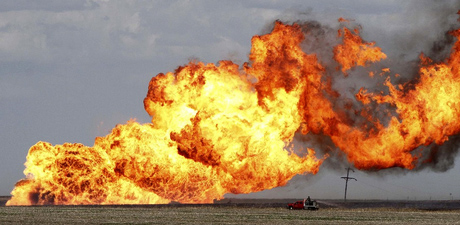 By Aynur Karimova
An explosion has damaged a section of the Baku-Tbilisi-Erzurum (South Caucasus pipeline) gas pipeline in the Sarikamis region of Turkey's Kars province, the Anadolu Agency reported on August 4.
Gas supply through the pipeline has been suspended.
Later, Turkey's state pipeline company, Botas, began restoration of the pipeline's damaged section, a source in the oil and gas market told Trend on August 4.
The source said that there was virtually no gas in the pipeline since supplies were cut on August 2 due to maintenance work at a platform on Azerbaijan's Shah Denizfield.
The gas pipeline is operated by Turkey (Botas), and Ankara is responsible for its security, the source said.
The residence of the governor of Turkey's Kars province, where the BTE runs, told Trend by telephone that the explosion on the pipeline's section was due to a gas leak and it wasn't a terrorist attack.
From Baku up to Georgia's border with Turkey, the BTE's technical operator is BP, and Azerbaijan's state oil company SOCAR is its commercial operator. The Baku-Tbilisi-Erzurum gas pipeline, also called the South Caucasus Pipeline, is necessary for exporting Azerbaijan's gas from the Shah Deniz field. The pipeline starts at a terminal near Baku, going through Georgia, and ends in the Turkish city of Erzurum, where there is a gas distribution hub.
This is not the first case of a pipeline explosion in the region. Earlier, on July 28, the Turkey-Iran gas pipeline was blown up in the Agri province, causing panic among locals. Another attempt to blow up the Iran-Turkey gas pipeline in the Agri province was prevented in early August.
The Turkish Air Force has commenced large-scale operations July 25 in Iraq's north where terrorist PKK camps are located. The Turkish Air Force destroyed a PKK military camp in Hakurk in northern Iraq on July 27. It was the second PKK camp bombed by Turkish Air Force jets in the last two days. Earlier, Turkish forces bombed a PKK camp in Metina.
--
Aynur Karimova is AzerNews' staff journalist, follow her on Twitter: @Aynur_Karimova
Follow us on Twitter @AzerNewsAz