10 July 2014 17:20 (UTC+04:00)
1 120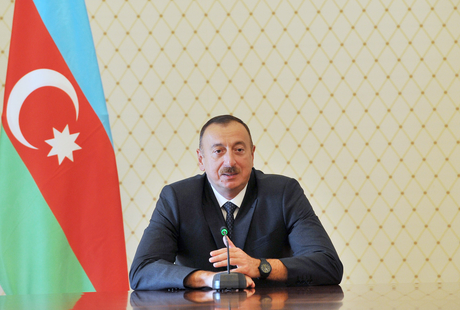 By Jamila Babayeva
Azerbaijan and Muslim countries should strive to strengthen Islamic unity and solidarity, said President Ilham Aliyev on July 9 at a meeting with the ambassadors and heads of diplomatic missions of Muslim countries in Azerbaijan on the occasion of the holy month of Ramadan.
"Azerbaijan has close ties with Muslim countries and expansion of these relations is among the main priorities of the country's foreign policy," the president said.
"I am glad that we are supporting each other and actively cooperating in the international arena in particular, the United Nations. Mutual support in the UN strengthens our positions," said President Aliyev, who added that he was pleased with the support of Muslim countries for Azerbaijan's stance on the Nagorno-Karabakh conflict.
President Aliyev said for many years the internationally recognized territory of Azerbaijan has been under occupation. "During these years, Armenia has flagrantly violated international laws. The Armenians have conducted a policy of ethnic cleansing against us and carried out the Khojaly genocide. The Armenians have destroyed all our historical and religious monuments in the occupied territories," he added.
Muslim countries' support for Azerbaijan's position is a manifestation of Muslims' respect for international laws and an example of brotherhood and friendship, he noted.
President Aliyev further said Azerbaijan has always defended the interests of Muslim countries in all international organizations. "We are making a tangible contribution to improving the international authority of the Organization of Islamic Cooperation."
The president added that at the same time, Azerbaijan is taking specific steps to strengthen intercultural dialogue between Muslim countries.
"We have played a special role in the development of relations between the Organization of Islamic Cooperation and the Council of Europe. In 2008, Baku hosted the first joint ministerial event of the Organization of Islamic Cooperation and the Council of Europe. This initiative was called "Baku process," he said.
Aliyev said Islam is a religion of peace and mercy.
"Unfortunately, anti-Muslim trends have intensified in some countries but some relevant state bodies do not take adequate measures to cope with it. Some European countries do not address Islamophobia adequately. We, for our part, try to inform the European public about the real nature of Islamic culture, religion and history," he stated.
The president said in the next three years, Baku will play host to the European games, as well as Islamic Solidarity Games. "These games will be major sporting events. At the same time, I believe that these Games will have a positive impact on the development of intercultural dialogue," the president noted.
President Aliyev also expressed confidence that as a result of Azerbaijan's and the Muslim countries' joint efforts, the region and the world would take long steps in a more positive direction.
"Muslim countries have great capacities, large population, rich natural resources and economic potential. We need to increase our efforts in order to create a better future for our peoples," he said.
Related News