Azerbaijan, Paraguay eye deepening co-op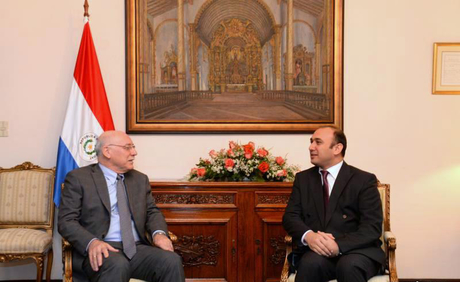 Azerbaijan and Paraguay discussed cooperation between the two countries in the political, economic, trade and humanitarian fields.
Azerbaijani Ambassador to Argentina with concurrent accreditation to Paraguay Mammad Ahmadzade has met Foreign Minister of Paraguay Eladio Loizaga, AzerTag State News Agency reported.
The sides stressed the importance of expanding a legal framework of the cooperation, and organizing reciprocal visits.
Ahmadzade highlighted Azerbaijan`s role in regional processes, as well as the country`s development strategy.
They also exchanged views on regional issues.
As part of the visit, Ahmadzade also met Chamber of Deputies President Juan Bartolome Ramirez, Chairman of Foreign Affairs Committee of the Chamber Jose Maria Ibáñez, Chairman of the Foreign Affairs Committee of the Senate Abdon Saguier, Deputy foreign minister Federico González, Assistant Director General of Diplomatic and Consular Academy Salvador Meden Pelaez.
Diplomatic relations were established between Azerbaijan and Paraguay in 1994.