21 February 2014 13:46 (UTC+04:00)
1 239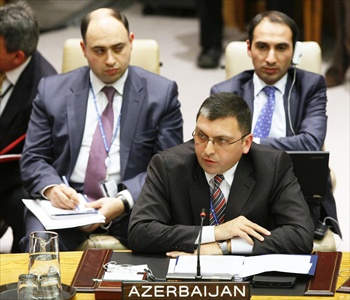 By Sara Rajabova
Azerbaijan has responded to totally groundless remarks made by the representative of Armenia to the UN, expressing unfortunate that the forum provided by the Security Council has once again been abused to disseminate lies.
"It has a distinctive nature of the policy of Armenia to level accusations against a country the territories of which it keeps under occupation, and civilians of which it subjected to brutal massacres and still continues to kill on a daily basis," Deputy Permanent Representative of Azerbaijan to UN said in a statement.
Tofig Musayev said there is only one question that needs to be asked in that regard.
"What can be the weight of statements by a country the president and other high-level officials of which are responsible for war crimes and crimes against humanity? Against this background, it is curious that Armenia has the cheek to criticize and lecture others on such a notion as justice, which is a priori alien to that country's policy and practice," he said.
Musayev noted that the best way to address the existing challenges and concerns is to ensure that the occupation of the territories of Azerbaijan is ended. The right of the forcibly displaced population to return to their homes is exercised without further delay and all those responsible for serious crimes committed against the Azerbaijani civilians in the course of the conflict are brought to justice.
Armenia occupied over 20 percent of Azerbaijan's internationally recognized territory, including Nagorno-Karabakh and seven adjacent regions, after laying territorial claims against its South Caucasus neighbor that caused a brutal war in the early 1990s. Long-standing efforts by US, Russian and French mediators have been largely fruitless so far.
As a result of the military aggression of Armenia, over 20,000 Azerbaijanis were killed, 4,866 are reported missing and almost 100,000 were injured, and 50,000 were disabled.
The UN Security Council has passed four resolutions on Armenian withdrawal from the Azerbaijani territory, but they have not been enforced to this day.
Related News