World Azerbaijanis Solidarity Day celebrated in Moscow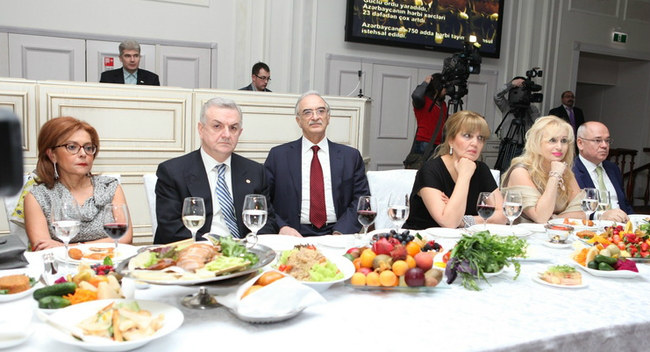 By Nazrin Gadimova
The Azerbaijani Embassy in Moscow held an event on the occasion of December 31, marking the World Azerbaijanis Solidarity Day.
Prominent Russian public and political figures, heads and members of Azerbaijani Diaspora organizations in various regions of Russia, attended the event.
Addressing the event, Azerbaijan's Ambassador to Russia Polad Bulbuloglu congratulated attendees on the Solidarity Day and upcoming New Year. Bulbuloglu on behalf of himself and Azerbaijani nationals living in Russia also congratulated President Ilham Aliyev on his birthday.
Speaking about ongoing development process in Azerbaijan under the leadership of Ilham Aliyev, the ambassador noted Azerbaijan's president successfully carries out the political course determined by the national leader Heydar Aliyev for ten years.
"Azerbaijan has become a member of the United Nations Security Council under Ilham Aliyev's leadership," Bulbuloglu said. "All of this is the reason for our people to be proud."
President of All-Russia Azerbaijani Congress Mammad Aliyev, in turn, spoke about activities and achievements of the congress in 2013 and plans for 2014.
Yury Artyukh, Head of the Moscow Government's Department for Interregional Cooperation, Social Inclusion and Relations with Religious Organizations, praised the current level of Azerbaijan-Russia relations.
"This year was difficult enough for both Russia and Azerbaijan. Despite all the trials, our friendship and our relations have withstood the test of strength this year," he said.
Some members of the Azerbaijani Diaspora were awarded with Embassy's honorable diplomas.
Following the awarding ceremony, a solemn reception was held at the embassy.
The diplomatic relations between Azerbaijan and Russia were established in April, 1992, and the same year embassies were opened in the both countries. Azerbaijan's current Ambassador to Russia Polad Bulbuloglu was appointed in 2006, Russia's Ambassador to Azerbaijan Vladimir Dorokhin assumed his post in 2009.