Officials speak out against Islamophobia at int'l conference in Baku [PHOTO]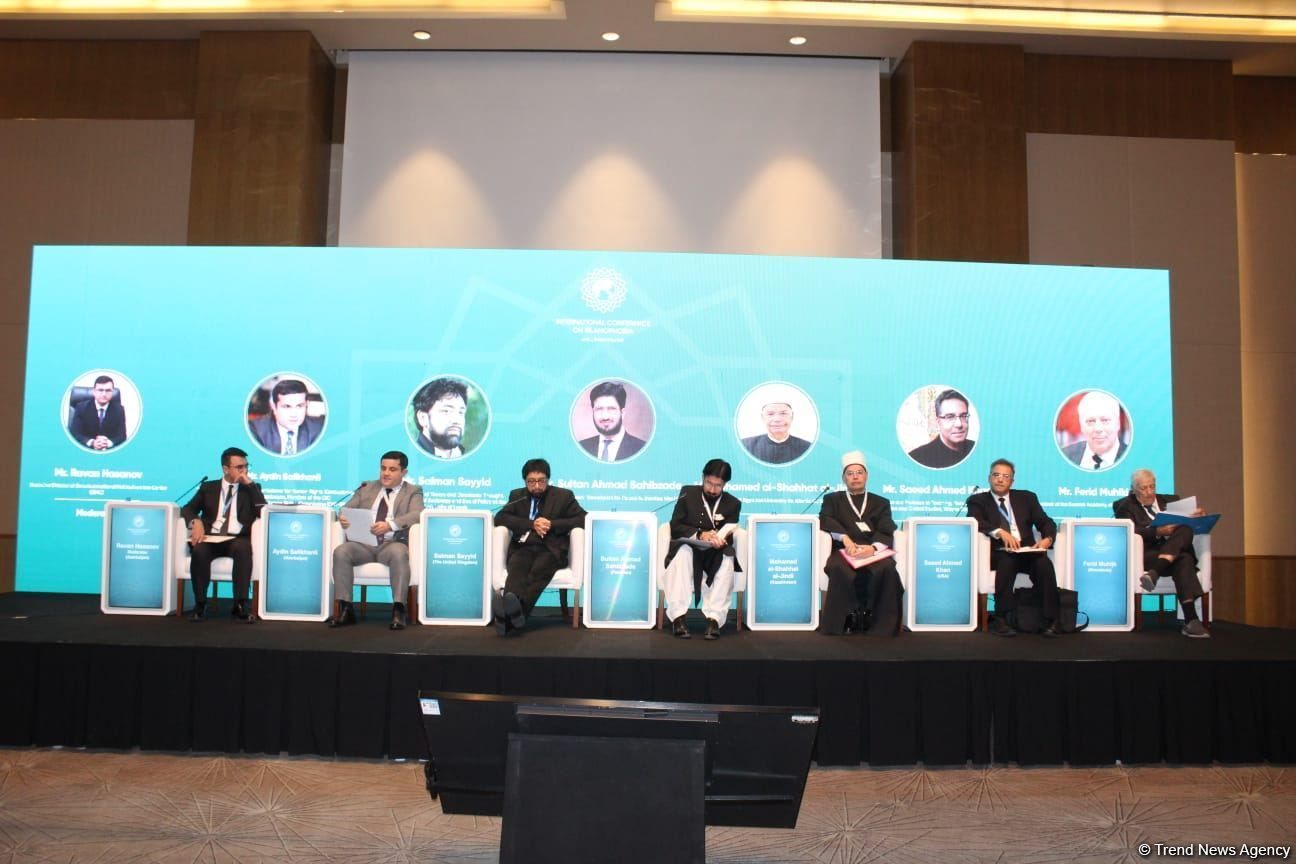 Numerous manifestations of Islamophobia are observed in France, Executive director of the Baku International Multiculturalism Center (BIMC) Ravan Hasanov said.
He made the remarks at the international conference on "Islamophobia as a Specific Form of Racism and Discrimination: New Global and Transnational Challenges" held in Baku today.
According to him, France has many cases of Islamophobia despite the fact that there are currently 5 million Muslims living there.
Similarly, Head of Ombudsman's Office, Member of the Independent Standing Commission on Human Rights of the Organization of Islamic Cooperation (IPHRC OIC) Aydin Safikhanli added that Islamophobia is getting a wide scope in Sweden and France.
"Victims of discrimination have become victims of French politics. All this is done under the guise of freedom of expression, but it is unacceptable," the official stated.
Moreover, the official underlined that racism and Islamophobia are openly institutionalized and legalized in France, as many French citizens become victims of police disrespect and hatred every day.
Safikhanli also brought attention to the mass atrocities committed by France against the people of Algeria and other countries in Africa, South-East Asia, noting that such brutality should never be forgotten.
According to him, for more than 130 years, France has waged a terrible war against the Algerian people, which has claimed the lives of more than 1.5 million Algerians.
"We must do everything possible to avoid these tragedies in the future. One of the current problems to human rights at the international level is the issue of bringing to justice all those responsible for crimes against peace and humanity, and war crimes," he stressed.
Besides, Safikhanli stressed that the massive destruction of Muslim monuments by Armenia was observed during the occupation.
Speaking at the conference, former Secretary General of the Organization of Islamic Cooperation (OIC) Ekmeleddin Ihsanoglu expressed the need to address the politicization of Islamophobia.
"We must accept that Islamophobia is a serious issue and we must be dealt with properly. Islam is also local to the West, it is not foreign to it. The number of European Muslims is in the millions. Contributions of Muslim civilization to Western civilization should be investigated," he added.
The official underlined that in comparison with previous years, manipulation in connection with Islam, the politicization of Islamophobia, the creation of legal frameworks, the institutionalization, and the constitutionalisation of Islamophobia are especially noticeable today. He also added that the European Court of Human Rights also makes decisions based on Islamophobia.
"We are determined to fight Islamophobia, move from confrontation to cooperation. We must convince the West that Muslims are not trying to change Europe, change values, respond to these populist statements and eliminate these concerns," Ihsanoglu said.
Additionally, Chairman of Pakistani MUSLIM (Mission of Unity, Stability & Leadership in Muslims) Institute Sultan Ahmad Sahibzadeh underscored that Islamophobia is not the result of ignorance, it is not connected with theological beliefs, but with the policies that countries pursue.
During the discussion, the Pakistani pundit emphasized that Islamophobia not only has such obvious manifestations as the burning of the Koran but is also expressed in the daily infringement of the rights of Muslims, which should not be forgotten.
"It is necessary to deepen the study of Islamophobia in order to fight it at all levels," Sakhibzadeh added.
He also added that Islamophobia is on the rise in South Asian countries and is particularly widespread in India.
Moreover, UN Deputy Secretary General, High Representative of the UN Alliance of Civilizations Miguel Angel Moratinos called on people to fight Islamophobia together by promoting Islam as a religion of peace and monotheism.
"The day against Islamophobia was declared because this problem stands next to such challenges and threats to the world as xenophobia and intolerance. Muslims have the right to be proud of their origin. We hope that within two days we'll discuss important issues on how to respect Islam and fight Islamophobia together," he said.
In a similar manner, President of the G20 Interreligious Dialogue Forum Cole Durham expressed the importance for religious people to raise their voices against Islamophobia.
He noted that the main challenge ahead is to involve religious leaders in this issue.
"They should show leadership qualities in this regard. Polarization should be reduced. Through friendship and education, we can contribute to this," he stressed.
To recap, March 15 was designated as the "International Day to Combat Islamophobia" at the session of the Organization of Islamic Cooperation (OIC) Council of Foreign Ministers (CFM), held in Niamey, Niger, on 27-28 November 2020. Later, in 2022, the United Nations General Assembly adopted a resolution declaring March 15 as "International Day to Combat Islamophobia".
On March 15-16, the Baku International Multiculturalism Center (BIMC), the Center of Analysis of International Relations (AIR Center), and the G20 Interfaith Forum are organizing an international conference dedicated to the International Day to Combat Islamophobia themed "Islamophobia as a Specific Form of Racism and Discrimination: New Global and Transnational Challenges".
The main purpose of the conference is to provide an academic discussion platform on the alarming trends targeting Muslims and Muslim-populated countries at international and national levels.
The conference, bringing together scientists, experts of international organizations, religious figures, and representatives of non-governmental organizations from 32 countries, is featuring discussions on different approaches in the fight against Islamophobia, a manifestation of Islamophobia in some European countries, Islamophobia in the international media.
--
Sabina Mammadli is AzerNews' staff journalist, follow her on Twitter: @SabinaMmdl
Follow us on Twitter @AzerNewsAz