Azerbaijani MP predicts further cementing of time-tested amiable relations between Baku & Tel Aviv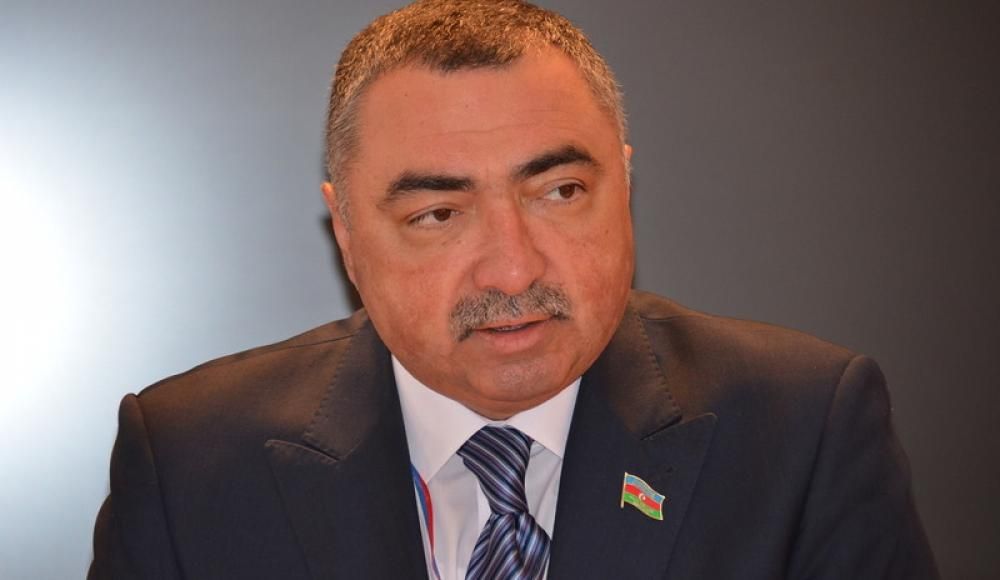 By Yusif Abbaszada
A popular maxim - a friend in need is a friend indeed - accurately renders the spirit and essence of the relations between the two time-tested old friends - Azerbaijan and Israel.
In a recent remark on developing day-by-day ties between Baku and Tel Aviv, Azerbaijani MP Rufat Guliyev was upbeat about the further prospects for the augmenting of bilateral relations, expressing gratitude to both Israel and its citizens. The parliamentarian underscored that most of the people he knows speak positively about Israel as a country and appreciate the existing level of synergy.
As is the case, Azerbaijan is a multicultural country with a large Jewish community, where, the year 2016 was recognized as the year of multiculturalism. It is beyond any doubt that the policy being pursued by Azerbaijani President Ilham Aliyev has turned out to be victorious and it is namely multiculturalism that opens up new doors of diplomacy for the country to expand the circle of friends internationally.
The Jews are familiar with the centuries-old existence of the Jewish community in Azerbaijan: they are aware of the good attitude towards Jews in Azerbaijan and the latter, in its turn, is familiar with the way Azerbaijanis are treated in Israel.
As a whole, the number of Jews in Azerbaijan totals 16,000 people: of 11,000 Mountain Jews, about 6,000 live in Baku, 4,000 - in Guba and Krasnaya Sloboda, and about 1,000 - in other cities. Moreover, there are 4,300 Ashkenazi Jews, most of whom live in Baku and Sumgayit, and around 700 Georgian Jews.
"Azerbaijan purchases state-of-the-art weapons from Israel, which always supports Azerbaijan at all platforms. Being in various countries of the world, I have always felt the strong support of the Jewish diaspora abroad. And I believe that our countries still have very large reserves and resources for building up bilateral cooperation particularly in the economic sphere, and in investments. Azerbaijan is interested in Israeli investments, new technologies, especially in the areas of agriculture and manufacturing. We see that there is a wide range of activities and we need to strengthen our relations further. I wish our new embassy, the ​​distinguished ambassador, successes in developing relations with Israel. We must also be said that some of our unscrupulous neighbors inadequately perceived the intention of the Azerbaijani government to open an embassy in Israel. Azerbaijan and Israel are sovereign, independent, and self-sufficient nations. And we have the right to develop relations in any areas we wish. I hope that after the opening of the embassy, Azerbaijani-Israeli relations will continue to further expand. Azerbaijan and Israel have a past, a present, and a brilliant future," the MP said.
It is a well-known secret that Azerbaijan's relations with Armenia remain tense with no sign of a peace deal on the horizon. The country needs faithful allies and friends with proven records. Today, Armenia is pursuing a clumsy policy of making enemies out of friends, which cannot be said about Azerbaijan, driven by the desire of strengthening diplomatic and friendly relations with its neighbors.
As the Israeli ambassador to Azerbaijan said in one of his interviews, the relations between Baku and Tel Aviv are a vivid example of the depth and width of the ties at the grassroots level.
"I can tell you that one of the funny and most touching moments I had in my post in Azerbaijan was when I met a lady who told me that she had a baby born two years ago, after the second Karabakh war and she named her son Harop. So, that was an interesting moment that I did not expect. But naturally, Azerbaijan and Israel are strategic partners, so we take it seriously. We do not use the word `strategic' in vain, we do not use it for any country, when we say it we mean it. And in that respect, our partnership is deep and it crosses various fields. One of them is security and our position also with regard to the issue of Karabakh has been very clear that we support the territorial integrity of Azerbaijan full stop. And we also understand that Azerbaijan lives in a tough neighborhood, with neighbors who do not shy away from making threats, and neighbors who make public or implied threats to Azerbaijan's independence or territorial integrity, and as friends, our partnership will do everything to empower Azerbaijan to prevent any forces from that. That is as much as I can say about partnerships in the security field," the ambassador emphasized.
--
Follow us on Twitter @AzerNewsAz