President, First Lady inaugurate Baku Zoo after renovation [UPDATE]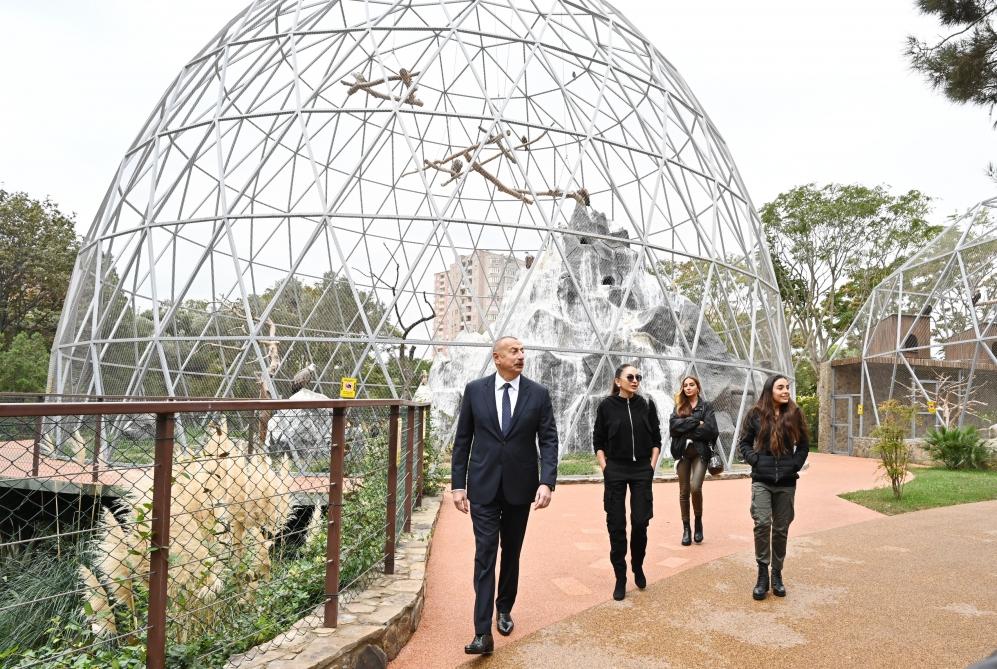 By Laman Ismayilova
The Baku Zoological Park was inaugurated after reconstruction on October 7, Azertag has reported.
Azerbaijan's President Ilham Aliyev, First Lady Mehriban Aliyeva, their daughters Leyla Aliyeva and Arzu Aliyeva attended the event.
The park was reconstructed at the initiative of founder and head of IDEA Public Union Leyla Aliyeva.
It should be noted that the first zoo in Baku was opened in 1928 on the territory of the Nizami Park in Khatai district.
From 1958 to 1985, the Baku Zoo operated in Bayil but after a landslide, it was transferred from Bayil to its current location. Previously, the zoo was in uninhabitable conditions.
As a result of capital reconstruction, which lasted almost four years, the Baku Zoological Park reached the modern level.
Azerbaijan's development strategy defined by President Aliyev expands a large-scale work aimed at turning Baku into one of the most beautiful cities.
Over the past years, a large number of projects have been implemented in Baku to create a modern social infrastructure for Baku residents and the city's guests.
New parks and alleys, recreation corners have been created as well. The Baku Zoological Park will diversify the life of the capital.
Over the past years, IDEA Public Union has implemented major projects aimed at environmental protection and solving environmental problems not only in the capital but also in the regions.
The Baku Zoological Park is expected to become one of the most visited tourist destinations in the post-pandemic period.
After the reconstruction, it turned into a convenient and interesting space for visitors. The park's total area was almost doubled and brought to 4.25 hectares.
During the reconstruction work, special attention was paid to the preservation of trees and shrubs on the territory.
The green area has also increased in the park. A more natural environment has been created there.
Along with various entertainment facilities, there is a playground, a lecture hall, and an electronic guide system on the park territory.
The Baku Zoological Park has necessary conditions for visitors of all age groups, as well as people with physical disabilities.
More comfortable enclosures, an aqua terrarium, a petting zoo, an artificial lake and pools, and a veterinary clinic have been created as a result of the major reconstruction.
The enclosures, where animals are kept, are equipped in view of the specific needs of each species.
The Baku Zoological Park will serve as an educational, research, and conservation center where people can receive information about the animal world, in particular, the unique fauna of Azerbaijan.
The park has favorable conditions for increasing the population and reintroduction of animal species included in the Red Book of Azerbaijan. Notably, the number of species included in the Red Book is 22.
Currently, there are 125 animal species in the Baku Zoological Park.
--
Follow us on Twitter @AzerNewsAz