Baku: Cooperation with Turkey contributes to regional stability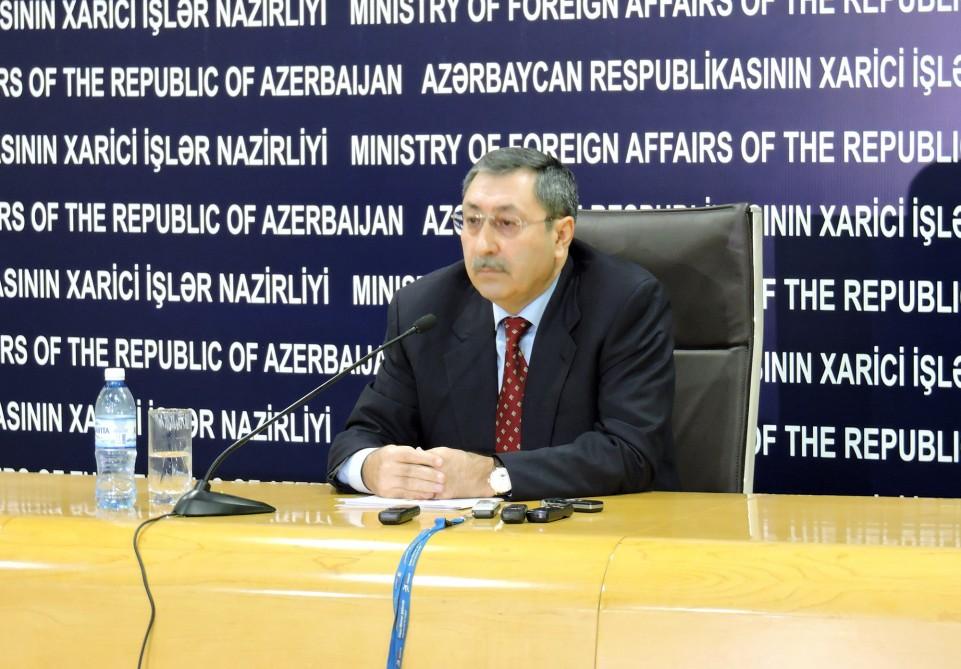 By Akbar Mammadov
The cooperation between Azerbaijan and Turkey contributes to the stability and security of the region and this cooperation is not directed against any third country, Deputy Foreign Minister Khalaf Khalafov has said.
The deputy minister noted that the brotherhood of Turkey and Azerbaijan serves to strengthen the spiritual unity in the Turkic world.
"Our joint Baku-Tbilisi-Ceyhan oil pipeline, Baku-Tbilisi-Erzurum gas pipeline, Baku-Tbilisi-Kars railway, Trans-Anatolian project not only improve the welfare of our peoples but also contribute to processes of the regional and global development," Khalafov said.
He emphasized that successful implementation of transnational projects opens new opportunities for economic cooperation between the two countries.
Furthermore, Khalafov stressed that Azerbaijani-Turkish relations have never been as high as they are now.
"Military cooperation between the two brotherly countries is also at a high level. There is a necessary legal basis for this. The recent joint large-scale military exercises have made significant contributions to the readiness of the armies of both countries. Our countries also cooperate closely within international and regional organizations."
The deputy minister highlighted that in 2019, the trade turnover between Azerbaijan and Turkey increased by 33 per cent, and despite the COVID-19, the trade turnover has increased this year as well.
Visa removal
He said that necessary steps are also being taken to remove the visa regime between Azerbaijan and Turkey and make it easier for citizens to travel. The deputy minister said that certain measures need to be taken to this end.
Khalafov pointed out that this issue was raised during the visit of Foreign Minister Jeyhun Bayramov to Turkey.
"Steps are being taken at the working level, documents are being prepared to address technical issues, and I hope that in the near future we will be able to resolve this issue in practice. Our citizens will travel to and from Turkey and Azerbaijan with ID cards."
Nagorno-Karabakh conflict
Touching upon the Nagorno-Karabakh conflict with Armenia, Khalafov stressed that Azerbaijan will never allow an inch of its land to remain under Armenian occupation.
Khalafov said that Azerbaijan will not allow the establishment of a second Armenian state in its territories.
In the meantime, Deputy Foreign Minister of Turkey Yavuz Selim Kiran has reiterated Khalafov's words that the Azerbaijan and Turkish brotherhood is a guarantee of security in the region. Kiran noted that Azerbaijan and Turkey are fighting together against all forms of terrorism.
"We thank Azerbaijan for its support in the fight against FETO. We are united in the fight against COVID-19 and we are always with Azerbaijan."
The Turkish deputy minister added that President Ilham Aliyev's support for Turkey's position when receiving the Greek ambassador is the highest example of brotherhood between Azerbaijan and Turkey.
Kiran underlined that Armenia's provocations in the direction of Tovuz have once again shown that Armenia is the largest obstacle to stability in the region. Noting that Armenia uses provocations to divert attention from internal problems, he said: "These provocations are exposure of domsetic despair. Since its establishment, Armenia has brought nothing but pain and lawlessness to the region. Armenia is constantly resorting to provocations to divert attention from its internal problems," Kiran said.
"We are always with Azerbaijan to resolve the Nagorno-Karabakh issue within the framework of Azerbaijan's territorial integrity and international law. Armenian troops must be withdrawn from the occupied territories of Azerbaijan," Kiran added.
---
Akbar Mammadov is AzerNews' staff journalist, follow him on Twitter: @AkbarMammadov97
Follow us on Twitter @AzerNewsAz