14 August 2020 14:11 (UTC+04:00)
2 896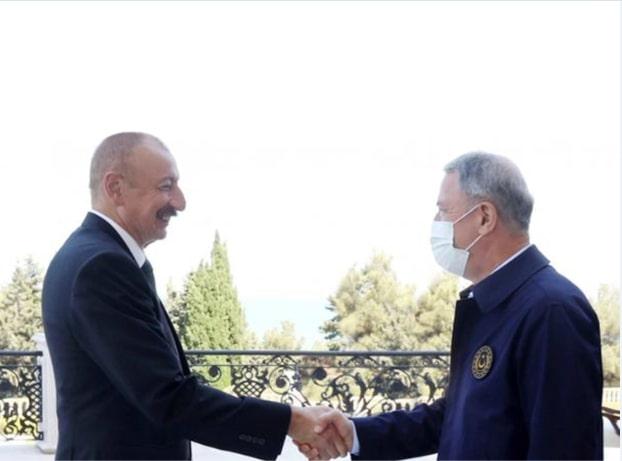 By Akbar Mammadov
President Ilham Aliyev has said that the large-scale joint military drills being held between Azerbaijani and Turkish troops are another manifestation of the Turkish-Azerbaijani unity and brotherhood.
He also said that these exercises are a common occurrence and their intensity will increase in the future.
Aliyev made the remarks on August 13 while receiving the Turkish military delegation headed by the National Defense Minister Hulusi Akar who is on a visit in Azerbaijan to observe the Turkey-Azerbaijan Joint Large-Scale Military Exercises.
"Today is the last day of the Turkish-Azerbaijani joint military exercises. The first stage of military exercises is coming to an end. This is a very significant event that once again demonstrates our unity and brotherhood. Exercises have been held in various cities of our country for several days. These exercises are of great importance from the point of view of military cooperation. At the same time, they are very important and useful for the strengthening of relations between our people and brotherhood between nations," the president said, addressing the Turkish military officials.
Aliyev pointed out that over 10 joint exercises are held in both Azerbaijan and Turkey every year.
"These exercises have become a common occurrence. There is no need to look for any extraordinary circumstances here. We are also seeing that these exercises have caused some concern in certain countries. But there is no reason for this. This is another manifestation of Turkish-Azerbaijani unity and brotherhood," he said.
The president stressed that as in all areas, the cooperation and collaboration in the military and military-technical spheres are developing rapidly between the two countries.
"It is no secret that Turkey currently possesses a strong military-industrial potential and we are benefiting from this potential. We are very delighted that Turkey produces the most sophisticated weaponry and military equipment today. Of course, we want to continue to benefit from these opportunities, as we have done to this day. I am confident that as is the case in all other areas, Turkey will be our number one partner in the area of military-technical cooperation in the near future," Aliyev said.
"I believe that the intensity of these exercises will be increased from now on. Naturally, there is a need for this. I am sure that our brothers, the personnel of the Turkish Armed Forces visiting Azerbaijan these days, saw that they are perfectly at home here. I am convinced that after returning to Turkey, they will keep these memories in their hearts," the president concluded.
Aliyev also thanked Turkey for unequivocally supporting Azerbaijan amid Armenia's military provocation on the border a month ago that resulted in the death of Azerbaijani servicemen and civilian.
"This [support] further encourages us and once again shows how close we are to each other," Aliyev said.
Aliyev described the Turkish-Azerbaijani relations in the political, economic and other spheres as an example for all countries, saying that "there are no countries in the world today that would be as close and attached to each other as Turkey and Azerbaijan."
"This is a fact based on both historical and ethnic roots. At the same time, we as two brotherly countries are further strengthening this unity through our policies," Aliyev stressed.
In turn, Turkish Defence Minister Hulusi Akar reiterated his country's support for Azerbaijan over Armenian provocation on the border, saying that "from the first day, all our 83 million people led by Mr. President angrily condemned the latest attack in Tovuz."
"We see that these provocations represent a large-scale attack and contradict international law, that this is a continuation of criminal actions since the time of the Khojaly genocide and the occupation of Nagorno-Karabakh. You are aware of our position on this. Azerbaijan is our brother. We are like two sons of one mother. We do feel perfectly at home here," he stressed.
Akar emphasized that the cooperation between the Turkish and Azerbaijan armed forces have been developing since Azerbaijan gained independence and there is framework military agreements and agreements on cooperation in the field of military education.
"We are cooperating in the field of the defense industry. As a logical result of all this, we have a strategic cooperation agreement signed in 2010. Thus, within the framework of these agreements, our trips, contacts and joint presence at exercises are quite natural activities. So far, we have done everything necessary for the sovereignty, independence and security of our countries, and we will continue to do so," Akar noted.
Akar said that exercises are like a laboratory where theory is turned into practice.
"We have seen the continuation of our cooperation, not just the completion of these exercises today, but only one stage," Akar noted.
"The Republic of Turkey and our 83 million people led by Mr. President are indeed watching this activity here with great love and enthusiasm. As Ataturk said, the joy of Azerbaijan is our joy and its sorrow is our sorrow too. This is truly a natural result of being one nation," Akar continued.
"We stand for peace and stability. We are supporters of peace and tranquility not only in the sense of security and tranquility of our countries, we stand for peace and tranquility in the entire Caucasus, in the entire region. On the other hand, we want everyone to know that we will not allow our rights and interests to be violated, and will do everything necessary to protect them," he stressed.
It should be noted that Chief of the General Staff of the Turkish Armed Forces General Yashar Guler, Commander of the Land Forces, General Umit Dundar, Commander of the Air Force of the Turkish Armed Forces General Hakan Küçükakyüzü, Commander of the Turkish Naval Forces, Admiral Adnan Özbalı and other military officials were also received by the president.
Turkish Ambassador Erkan Ozoral and Azerbaijani Defence Minister, Colonel-General Zakir Hasanov also participated in the meeting.
The Turkish military delegation arrived in Azerbaijan on August 12 evening to observe the joint large-scale military drills held between the two countries' troops, Azerbaijan's Defence Ministry reported today.
The military delegation observed the final episode of the first stage of Live-Fire Joint Large-Scale Tactical and Flight-Tactical Exercises of the Land Forces and the Air Force of Azerbaijan and Turkey. The observation of the final episode took place within the framework of the Distinguished Visitors Day of the exercises.
The Turkish military officials' visit follows Azerbaijani Foreign Minister Ceyhun Bayramov's and Defence Minister Zakir Hasanov's visit to Turkey on August 11 where they were both received by Turkish President Recep Tayyip Erdogan.
It should be noted that The Land and Air forces of the two countries participated in the military exercises held in line with the agreement on military cooperation between Azerbaijan and Turkey, in accordance with the annual plan.
According to the plan, exercises involving the Land Forces were held from August 1 to 5 in Baku and Nakhchivan, while exercises involving the Air Forces were conducted from July 29 to August 10 – in Baku, Nakhchivan, Ganja, Kurdamir and Yevlakh. The personnel, armoured vehicles, artillery and mortars, combat and transport helicopters of the Air Forces, as well as air defence and anti-aircraft missile divisions of the two armies, were involved in the drills.
---
Akbar Mammadov is AzerNews' staff journalist, follow him on Twitter: @AkbarMammadov97
Follow us on Twitter @AzerNewsAz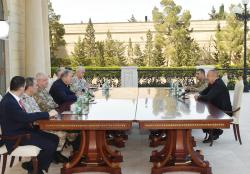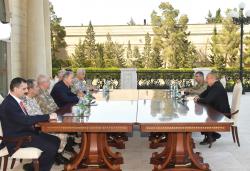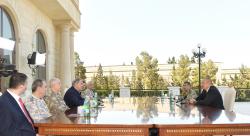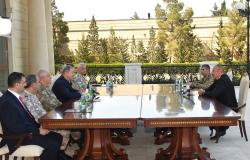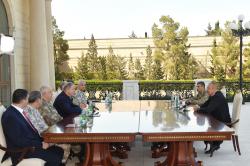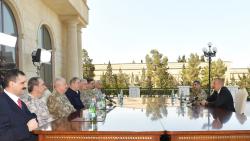 Related News