18 March 2017 22:01 (UTC+04:00)
2 620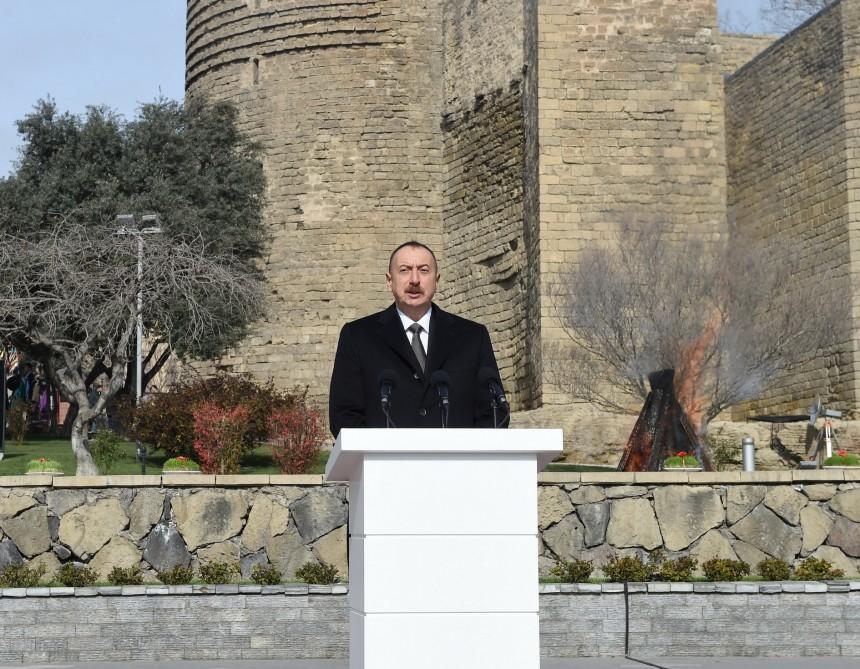 Azerbaijan will continue its economic development this year, said Azerbaijan's President Ilham Aliyev delivering a speech at the nationwide festivities on the occasion of Novruz, the Azerbaijani national holiday.
"I am confident that the economic growth will continue this year. We have very big plans," said the president adding that the investment program will serve for the development of real sector.
More than 150,000 hectares of land will be irrigated in agricultural sphere during this year, he noted, adding that this means the creation of hundreds of thousands of jobs.
This means the growth of agriculture and exports, added the president.
"Only within two months of this year we created more than 40,000 new jobs in the public sector. Why? To prevent unemployment. Because state investments declined last year, especially in the construction sector. Some citizens lost their jobs. Therefore, I called on the businesses to employ at least one or two people per each company. Maybe they don't really need it, but businesses should also realize their social responsibility," said President Aliyev.
"A special budget has been allocated for our state companies and local executive authorities; currently, more than 40,000 people are involved in public works and other repair and construction works. Therefore, I am confident that this year Azerbaijan will continue its economic development," he said.
The head of the state noted that there are also big plans in social sphere.
"This year, traditionally, five million people undergo free diagnostics and examination. I think that this is a rare initiative on a global scale. Modern medical facilities have been created in every district," noted the president.
In recent years, more than 600 medical institutions have been repaired and built, added President Aliyev.
---
Follow us on Twitter @AzerNewsAz
Related News