Tarana Muradova delights fans with aerial dance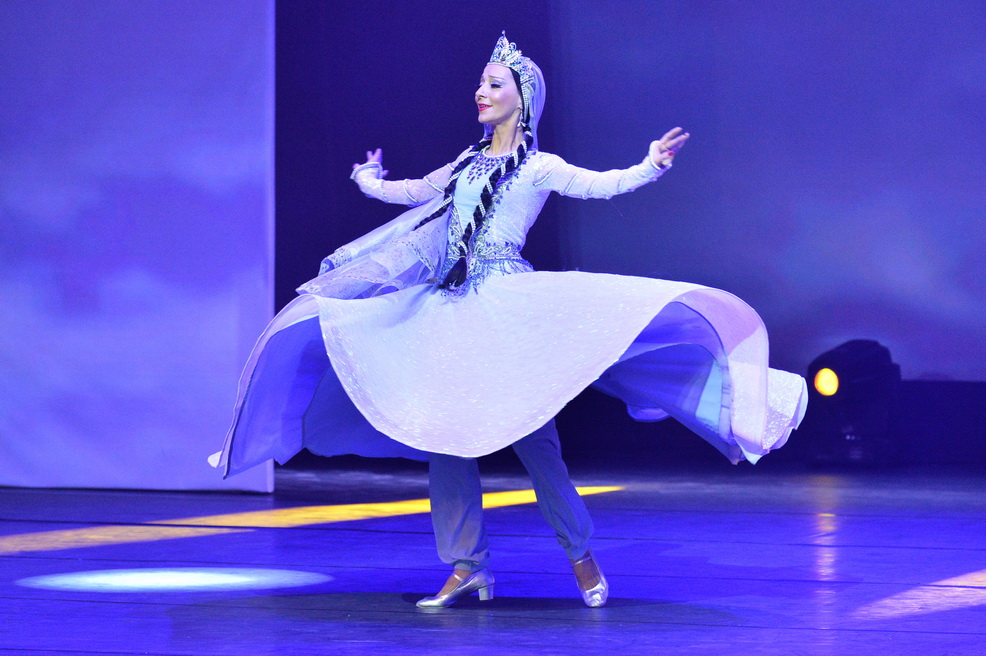 By Amina Nazarli
A musical event celebrating Tarana Muradova's 35th anniversary as a dancer was held on November 11 in Baku's Heydar Aliyev Palace.
The image of Muradova rising above the stage; the stream of congratulations, flowers, and kind words; the successive bands; and great performances all around will remain in the memory of the guests for a long time to come.
Muradova shone on stage, delivering an exhilarating performance that perked up the audience.
An icon of feminine beauty and youthful vigor, she looked nowhere close to her 50 years of age, some 35 of which she had dedicated to her career.
Guests made a special trip from Austria, Germany, Turkey, and Russia to attend the concert.
Dance troupes such as the Georgian National Ballet's Sukhushvili-Ramishvili, Dagestan State Academic Dance Ensemble's Lezginka, the Astrakhan governor's song and dance ensemble, the Azerbaijan State Academic Theatre and Ballet's ensemble, and the State Dance Ensemble brought the event to life with their colorful dances.
Commenting on her creativity, Muradova said that performing on stage was an inexpressible feeling, noting it was like finding herself in a different world.
"I'm madly in love with my profession, and no matter what, I would never give it up. The stage is my life, my cure for all diseases. Going on stage, I forget all pain. Youth and beauty, for me, is a reflection of my spiritual qualities. To be truly beautiful, you have to be kind, cheerful, and optimistic. Even when something goes wrong, I try to enjoy life, arranging surprises, receiving guests, and enjoying the warmth of human contact. The key to youth is, of course, creativity and hard work, in addition to selfless love for your profession," she stated.
"Since my childhood, I have been in love with ballet," remarked Muradova. "My idol was Maya Plisetskaya. When children my age were watching cartoons, I was watching the blue screen and a performance by dancers, whom I called the "fluttering dolls." And I too wanted to flit on stage."
However, she did not become a ballerina, although she successfully performed roles in the "Maiden Tower" and "Love and Death" ballets. Instead, she devoted herself to the national dances.
She has represented Azerbaijan on the world stage at the Bolshoi Theater and the Kremlin Palace and in performances for UNESCO.
--
Amina Nazarli is AzerNews' staff journalist. Follow her on Twitter: @amina_nazarli

Follow us on Twitter: @AzerNewsAz