10 September 2014 14:48 (UTC+04:00)
1 653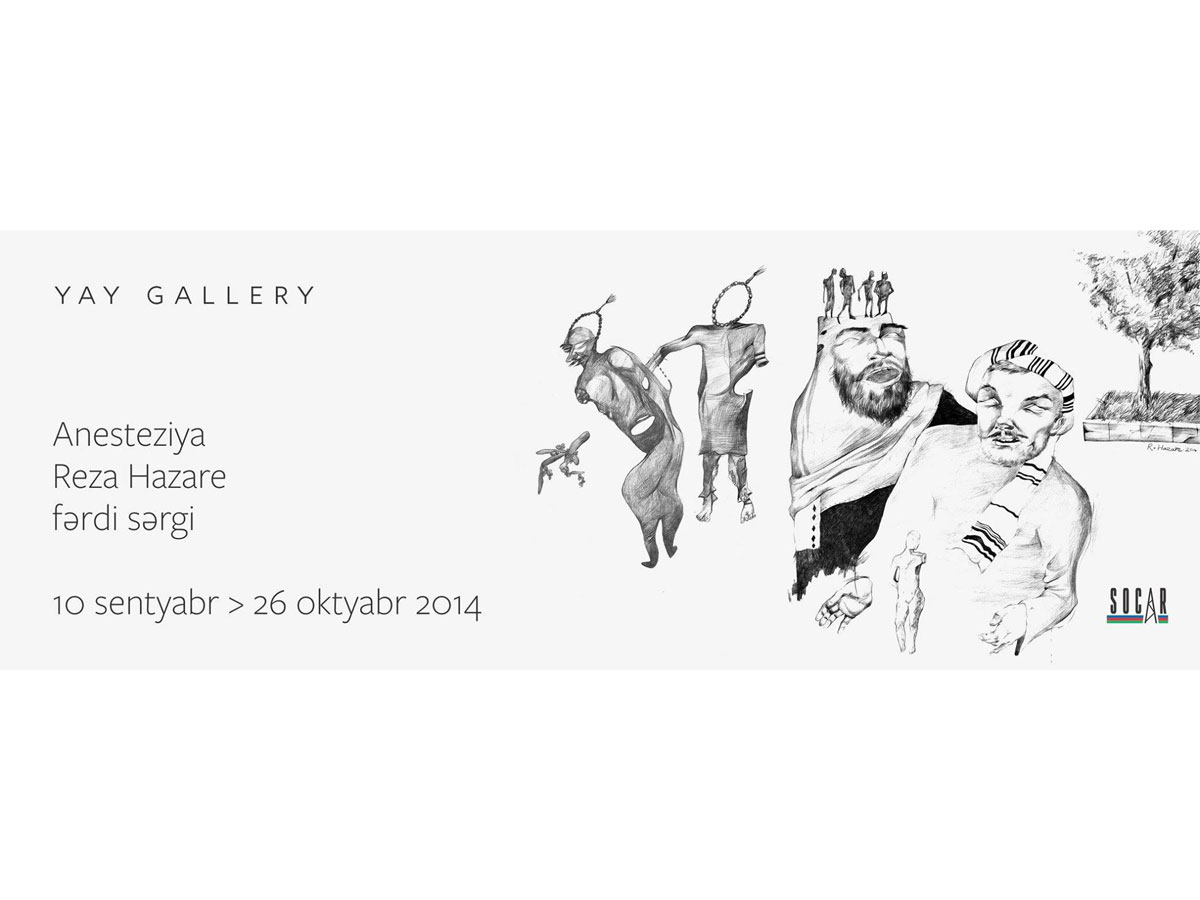 By Nigar Orujova
A solo exhibition by Afghan artist Reza Hazare will be opened at the YAY Gallery in the capital Baku on September 10.
Hazare works and lives in Azerbaijan.
The exhibition, entitled Anesthesia, features a selection of new works by the artist that reflect the twists and turns of his personal history as a refugee.
Reza Hazare was born in Zahedan, Iran, in 1987. Reza graduated from the Visual Arts School of Teheran in 2005, and moved soon after to Azerbaijan where he pursued his studies. He finished his studies at Azerbaijan's State Academy of Fine Arts in 2012.
Reza's works allude to the tensions he has experienced in moving between his past and present homes, tensions in their religious and secular ways of life, and in the underlying conflict between the traditional and modern lives.
Coming from a strict Islamic country to Azerbaijan, he has had to adapt to a secular environment, while simultaneously watching his home country going through a national crisis.
Years of civil wars and schisms have pushed the Afghan society into a crisis that has only been made worse by religious fundamentalism and radical tribal values. The once prosperous society has fallen into darkness and chaos. This situation affected three generations of Afghan people. Unavoidable emigration was only one result of this crisis.
Reza's generation has grown up in countries in which they do not feel at home. For example, many who were born in Iran have never had any legal rights in that country. Neither are they socially accepted in Afghanistan, because they grew up in different societies and were exposed to different cultural attitudes. As a result, they are unable to take root in one place and are left with an overwhelming feeling of displacement.
People who find themselves in post-war circumstances often remain refugees for years and are forced to start over, find new professions, and struggle with external pressures. The absence of basic rights in their new country and the disintegration of the family can create chaos for those individuals. When faced with political and social difficulties, these isolated individuals can feel desolate, withdrawn and indifferent to their surroundings.
As time passes, the Afghan refugees are becoming indifferent to outside events, losing their sense of self as their country faces destruction.
Unfortunately, this lethargy is also present in people who have managed to overcome the worst situations. Their journey from darkness can lead them back to darkness.
Hazare's exhibition, Anesthesia refers to this cyclical journey, where muted pain resonates with a quiet echo.
Related News