16 April 2014 08:40 (UTC+04:00)
3 140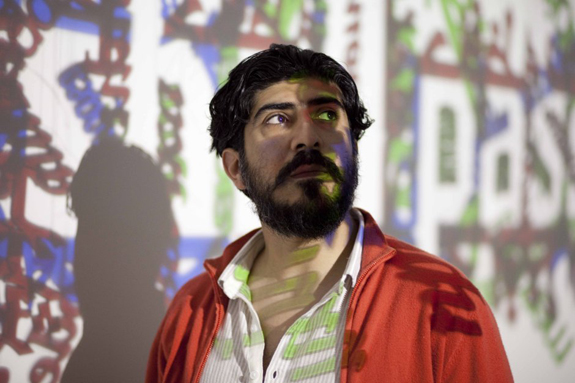 By Nazrin Gadimova
It would seem impossible to come up with something new in art and even more impossible to surprise; but masters of chiaroscuro are able to not just surprise, but also amaze a spectator. Plastic bottles, tubes, or just pieces of plastic... all these 'materials' are used in this kind of art. All that is needed is to install or hang them in the established order and then turn on the lights.
Today, few people dare to work with light and shadow, as the main instrument in such a work is not a brush with paint, but imagination. That is why Azerbaijani artist Rashad Alakbarov can safely be reckoned among a small galaxy of creators who manage to create a finished product using shadows.
Each of his painting has its own story, describing a separate event in his life.
Having a quite different, but interesting, approach towards the arts, Alakbarov realized that he sees what ordinary eyes cannot observe in 2000.
"I did my first shadow installation in 2000," Rashad Alakbarov told AzerNews. "The installation was called 'Look at one city from two points of view'. After it was presented at many exhibitions, including the Venice Biennale, it was purchased for a private collection. I thought that my art is interesting to many people and decided to continue shadow installations."
Answering a question about the philosophy of his arts, Rashad said there is no philosophy, but there are rules; not to offend anyone or touch religion.
'Not all that glitters is gold' - this phrase is reflected on the wall, and shadows are created by an unusual sculpture. Rashad Alakbarov is proud of its complicated structure: the installation is so heavy only three workers can raise or move it.
"At the stage of ideas, I use paper and pen," the artist says, answering a question about which artistic or non-artistic materials he frequently uses in his work. "And at the stage of manufacturing, I use metal and weld. But there are installations in which I use plexiglass.
The most important element in his studio is the welding machine, the artist notes.
Rashad represented Azerbaijan at the 52nd International Biennale in Venice in 2007, and his work "Lost in translation. This too shall pass" was presented at the Venice Biennale in the pavilion of the YARAT! Contemporary Art Spaces within the large-scale "Love Me, Love Me Not" exhibition in 2013.
Answering a question about which of his works he prefers among others, the artist said all his works are close to his spirit.
Speaking about his future plans and would-be projects, Rashad said there was no time to plan.
"I receive invitations to participate in various exhibitions in Azerbaijan and abroad. And for each exhibition I have to do a new installation. I plan for many months in advance, working with 'YARAT!'. Thus, my future plans are defined," he says.
Before his involvement in shadows, Rashad was seriously engaged in painting and sculptures. However, he said he rarely returns to his old passions.
In the end, Rashad shared the secrets of the success of his unusual, but quite exciting, artistic style.
"One must have an information base, which includes history, geography, physics, architecture, art, and so on. Plus labor and love for what you do," he said.
Art is different, very personal, and one art is often not at all like others. But if you look at the work of this Azerbaijani artist, you will realize that it is just a revolutionary idea which once again proves that genius is simplicity.
Related News