National artist awarded Artistic Career Prize [PHOTOS]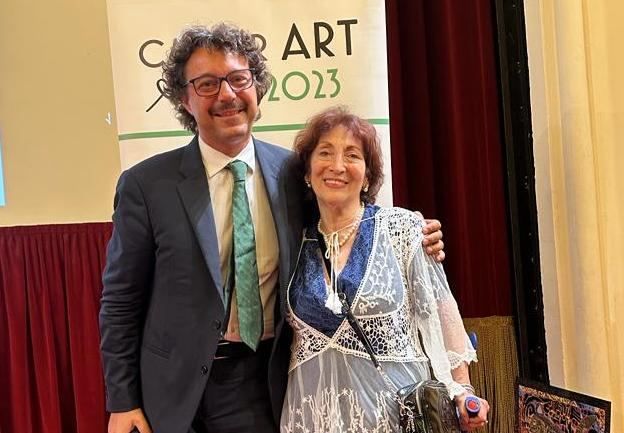 Azerbaijani artist Margarita Karimova-Sokolova has been awarded Artistic Career Prize.
The awarding ceremony took place at the Casino theater in San Remo, Italy, Azernews reports.
The prize is awarded by the Effetto Arte Foundation, a leader in the field of contemporary art. The Artistic Career Prize is one of the most significant awards in the field of arts and culture. The Effetto Arte Foundation presents the Professional Career Award to artists who have distinguished themselves over the years in the field of fine art.
Receiving the Artistic Career Prize is an important recognition for an artist of his creative path, an opportunity to gain greater fame among collectors and art dealers.
One of the goals of the Artistic Career Award is to highlight the work of artists whose work is worthy of study and appreciation.
Margarita Karimova-Sokolova was born in Baku. Her great-grandfather was a famous Russian artist Ivan Ivanovich Sokolov. She studied at the art and graphic faculty of the Kuban University and the Academy of Arts named after Repin (St. Petersburg).
She is a Member of Azerbaijan Union of Artists and the USSR (since 1969). She is also a member of UNESCO International Federation of Artists, member of the International Art Fund of the Russian Academy of Arts, Vice-President of the International Foundation for Aesthetic Development, member of the International Association of Artists.
Since 1965, Margarita has participated in exhibitions of Soviet and Azerbaijani artists in various cities of the USSR, Algeria, Germany, U.S., France, Cuba, Austria, Poland, and Bulgaria.
In 1994-1995, she lived and worked in the U.S. (Philadelphia, New York, Chicago). Since 1995, she has been living in the city of Cologne (Germany). Her exhibitions are held with great success in many countries.
Margarita Karimova-Sokolova is a prize-winner of the International Art Prize Caravaggio- Great Master of Art (2022), International Prize Leonardo Da Vinci (2022) and Olympic Artistic Award (2021).
---
Follow us on Twitter @AzerNewsAz