Azerbaijan's oldest carpet to be exhibited in Los Angeles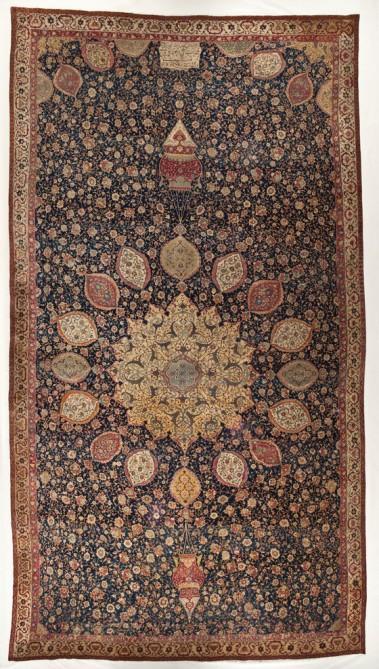 By Aygul Salmanova
One of the most famous names of Azerbaijani carpets known as "Ardebil" and "Sheikh Safi", is currently being exhibited in the Museum of Arts in Los Angeles.
Carpet "Sheikh Safi" is considered to be the oldest dated carpet in the world. As one of the largest (35 million knots) and historically important carpets of the world, it was exhibited at the Victoria and Albert Museum in London with its pair.
This pair of carpets was woven in 1539-1940 in the city of Tabriz and was kept in the temple in Ardebil until the 19th century, when they were brought to London, according to the information of the Consulate General of Azerbaijan in Los Angeles.
One of the carpets was secretly sold to American industrialist J. Paulo Getty, who subsequently donated his art to the Los Angeles County Museum of Art in 1953. The carpet, which is located in the Museum of Art of the District of Los Angeles, is considered to be more beautiful.
Because of its large size (23 feet long, 13 feet wide), the carpet is exhibited usually every six to ten years at the Los Angeles County Museum of Art. Since its debut in the museum in 1965, it has been shown only six times. The exhibition this year will last until February 11.
Carpet weaving is one of the oldest arts and crafts of the country. The data of archaeological research conducted on the territory of Azerbaijan and the monuments of literature testify that the art of carpet weaving originated in Azerbaijan in ancient times.
A feature of the Azerbaijani carpet ornament is the use of images of plant, zoomorphic, anthropomorphic and abstract geometric forms. Its distinct color palette and design allows to easily recognize Azerbaijani carpet. An unusual scheme of cherry red, yellow-green and sky blue adds color distinction to masterful draftsmanship of the Azerbaijani carpets. Its patterns differ depending on the region in which and the layout and material from which it is woven.
By geographical position, peculiarities of patterns, composition, color solution and technical features, Azerbaijani carpets are conditionally divided into 7 carpet-making schools: Guba, Baku or Absheron, Shirvan, Ganja, Gazakh, Karabakh, and Kabriz.
In 2010, the Azerbaijani carpet was proclaimed a Masterpiece of Intangible Heritage by UNESCO.
Ancient Azerbaijani carpets are stored at the White House, the U.S. State Department, and many other museums across the world, including the Metropolitan Museum of Art in New York, the Museum of Fine Arts in Boston, and the Museum of Art in Philadelphia, as well as the Victoria and Albert Museum in London and Hermitage in St. Petersburg.
--
Follow us on Twitter @AzerNewsAz