Don't miss 'National Cinema Days'!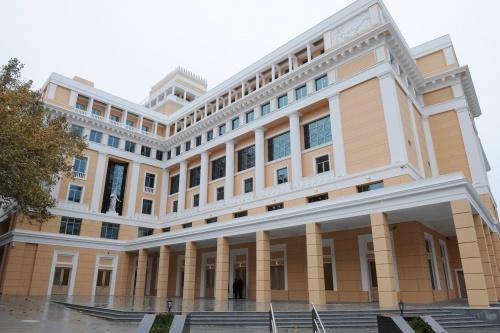 By Laman Ismayilova
Azerbaijan is one of the few countries in the world with a cinema history dating back to the 19th century.
Today, the Azerbaijani cinema has come to be an internationally recognized modern art enjoying a huge popularity and recognition at international film festivals, which frequently award the national films. Azerbaijan's cinema will celebrate its 119th anniversary on August 2.
To mark the day, Baku's Nizami Cinema Center will organize free screening of Azerbaijani films.
The National Cinema Days are co-organized by Baku City Main Department of Culture and Tourism and "Azerbaijanfilm" cinema studio, Trend Life reported.
The films will be screened each Monday, Wednesday and Friday at 12:30. The movie marathon will start on June 21 with the film "Inner City" by Azerbaijani director Ilgar Safat.
"Inner city" is a psychological drama about a romance between a young student Arzu, who's dreams reach beyond the primitive ambitions of her peers, and Rafael, a veteran of the Karabakh war with crushed dreams of his own.
The story explores what it's like for a young woman to have non-traditional values and love freely in a county that's driven by a cultural mentality that's been passed down through generations, as well as the pain that comes along with breaking free from a society's expectations.
The film "Murderer" will be shown on June 23. Directed by Kamran Shahmardan, the movie is based on the play by renowned Azerbaijani writer and playwright Elchin Efendiyev.
The storyline is about a middle-aged woman, who met his former student. He was in love with her since school. They fell in love with each other. And it seems that all dreams are coming true, but it is only the beginning of the story.
'The Dance of Good and Evil', directed by Yavar Rzayev will be screened on June 26.
An old jeweler mentions a notorious diamond "Abbas shakh" in his death wish, but when his heirs open the safe, the diamond turn out missing. The jeweler's family decide to call a famous detective Drongo, who is known for his ability to unravel the most mysterious cases.
The private detective makes a list of suspects and starts to peel apart those with an iron clad alibi. All of a sudden, the list of suspects starts to shorten down, because someone is killing people.
The film "Memory" directed by Vahid Mustafayev will be shown on June 28.
The story is being told in a flashback, as first we see Azer on the operating table in a clinic, where he suddenly awakens from coma, and his memory starts coming back. He starts remembering what happened to him…
"Nabat" movie will be screened on June 30. The film was shot in 2014 and dedicated to Karabakh war, which resulted after Armenia's unjustified territorial claims against Azerbaijan.
Elchin Musaoglu decided to make this film after being impressed by a true story told by one of his friends.
The story revolves around a village's residents who are forced to leave their homes because of an ongoing battle. But there is an old woman who refuses to leave her family members buried in the village. The full-length film was nominated for Oscar in 2014.
The film "Intention" from Azerbaijani filmaker Samir Karimoghly will be shown on July 3. The film is about human destinies, belief, spirituality, and value of some values.
"Buta" movie will be screened on July 5. The feature film was filmed by Ilgar Najaf.
In leading roles are national actor Rafik Azimov and actors Tofik Aliyev, Laman Nabiyeva, Elnur Kerimov and others. The operator of a picture is Georgi Beridze, the artist - Aziz Mammadov, the sound producer - Tariel Hasanzade, the general producer - Hamis Muradov, the composer - national actor Javanshir Guliyev.
The film "Interrupted memories" will be shown on July 7.
Directed by Elkhan Jafarov, the film is based on a true story. The main character is an Azerbaijani man - Daniyal Abdullayev who recalls his youth memories.
For him, as the defender of the Brest fortress, the war began in 1941. During the battles, he got into a concentration camp in Dubica, and later escaped to join the partisans in those territories.
About 200 residents of Brest participated in the crowd scenes. They acted as the defenders of the citadel, as the partisans, as the prisoners of war and as the Germans in the movie. The first part of the movie was shot in Belarus - Brest and Minsk.
There are two parallel storylines developed in the movie. These are the Great Patriotic War and the tragic episode from the history of modern Azerbaijan - the war in Karabakh.
Abdullayev, who was fighting against Nazis, fifty years later, stands for the protection of Karabakh from Armenian occupants. Russian mercenary, who was fighting for the Armenian side, kills the veteran and discovers his diary and finds out that the old man was fighting along with his grandfather during World War II.
Asif Rustamov's "Down the river" film will be shown on July 10. "Down the River" is the psychological family drama about rowing team coach Ali, which is dealt a cruel blow by fate. Ali is a tyrant, who cheats on his wife and forces his son Ruslan to become a rower and train hard towards this end. Try as he might Ruslan is unable to live up to his father's expectations. Only with his son's tragic death Ali is forced to reassess his approach to life as well as towards those around him, in particular his wife.
The film "Lesson" by will be screened on July 12.
"The Lesson" is a story about the life of Azerbaijani schoolchildren, friendship and responsibility for their actions.
Schoolboy Khalid becomes a target of ridicule for his classmates. No-one wants to become friends with him. He dreams of making friends with the most popular boy in the class. "If I have such a friend, I'll be respected and loved by everyone," the kid once told to his granddad.
"Red Garden" film by Mirbala Salimli will be presented to film lovers on July 14.
The film tells the story of a provincial teacher from blue blood, Abbas. А desperate desire of having his own son makes him so indifferent to orphan in his custody and even to deadlock situation of his beloved spouse Vafa. But everything changes, when he himself causes Vafa's death. Now in the otherworld Abbas is craving to have back all the things that he couldn't protect in this world…
For more information, please visit:
https://www.facebook.com/NizamiCinema?rf=482176415135559
---
Laman Ismayilova is AzerNews' staff journalist, follow her on Twitter: @Lam_Ismayilova
Follow us on Twitter @AzerNewsAz