10 February 2016 14:58 (UTC+04:00)
2 292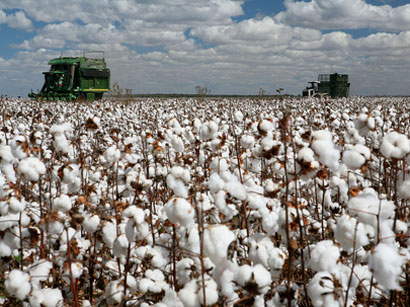 By Aynur Karimova
China, the largest cotton producing country in the world, is keen to expand relations with Azerbaijan in the cotton breeding field.
Chinese Xinjiang Yinlong International Agricultural Cooperation reviews opportunities for construction of a joint plant in Azerbaijan for production of seedless raw cotton and cotton seed, based on new technologies, local media reported.
Currently, negotiations are underway between Azerbaijan's Agriculture Ministry and the Xinjiang Yinlong, which is the third largest Chinese company, specialized in the field of cotton growing.
Experts believe that cooperation with China is of significant importance in terms of development of seed farming, cotton processing and seed cleaning in Azerbaijan.
They say China, some 300 million people of which are involved in cotton production in the country's 24 provinces, attaches great importance to Azerbaijan's climate and soil capabilities for seed farming and cotton breeding.
They also note that Azerbaijan, which is keen to give a new life to cotton production industry, will benefit from cooperation with China.
Currently, cotton production is traditionally wide-spread in the country's Saatli, Sabirabad, Beylagan, Barda and Zardab regions.
Azerbaijan was famous for high production of cootn in the 20th century and was even a leading cotton producer in the Soviet Union.
However, over the past 18 years, production has dipped six fold in Azerbaijan due to diminishing interest to this field of agriculture. As a result, areas grown under cotton reduced by nine times.
Azerbaijan collected 35,000 tons of cotton in 2015, which is 14.6 percent less than in 2014, according to the State Statistics Committee. This was the lowest indicator of cotton production in Azerbaijan since 2010.
Local experts say that cotton production is not the easiest operation, and despite the heavy demand, the decrease in interest in cotton resulted from the low profitability margins of cotton production. Moreover, an increasing use of artificial materials worldwide has negatively affected the cotton-growing sector.
They believe that to boost this sphere, new technologies, minerals, and varieties are needed to lower the cost of cotton production. In this case, Azerbaijani cotton would be competitive in world markets.
Meanwhile, the government of Azerbaijan has opted for incentive measures to enhance local production, to increase farmers' interest in this traditional sector and to create new jobs.
Azerbaijan's Economy and Industry Ministry reported on February 6 that the government has discussed the prospects for the development of the cotton production with representatives of companies involved in the production and processing of cotton.
Cotton production and processing enterprises increased the procurement price of cotton significantly in 2016 compared to the previous year. They will pay some 500 manats ($315.55), 470 manats ($296.6), 440 manats ($277.68) and 400 manats ($252.44) for a ton of the first, second, third and fourth types of cotton, respectively.
Moreover, cotton production and processing facilities will meet the costs of transportation and 90 percent of production costs will be provided in advance by processors.
Farmers engaged in cotton breeding will be able to reach wider range of preferential loans and leasing services.
The incentive measures and the increase in sown areas will provide an opportunity to create more than 15,000 new jobs, thereby almost doubling the number of employees in this area.
In total, it is planned to plant cotton in 30,000 hectares of land (80 percent more than the previous year), and to supply 70,000 tons of raw cotton in 2016.
--
Aynur Karimova is AzerNews' staff journalist, follow her on Twitter: @Aynur_Karimova
Follow us on Twitter @AzerNewsAz
Related News