Pakistan keen for broader cooperation with Azerbaijan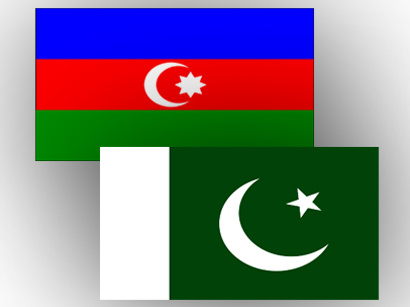 By Nigar Abbasova
Azerbaijan and Pakistan, the two strategic partners, are keen to expand their cooperation and achieve strong economic partnership. The two countries have many spheres for cooperation that are of mutual interest for both, while the priority areas are policy, economy, defense and security, trade, energy, tourism and humanitarian sphere.
Pakistani Ambassador to Azerbaijan Saeed Khan Mohmand told reporters in Baku on February 6 that the relations between the states are developing rapidly, mentioning that successful cooperation is confirmed by the frequent high-level visits from both sides.
The diplomat expressed satisfaction with the good state of relations between the two countries, especially at the political level, emphasizing that the countries will continue to strengthen cooperation in the military and technical sphere.
Freight transportation
The envoy said that the China-Pakistan Economic Corridor, which is now being developed, can be advantageous for Azerbaijan as well, reminding that that the corridor will cut the distance of cargo transportation by 14,000 kilometers.
Being funded by China the corridor is expected to allow to transport some 300-400 million tons of cargo via the corridor. The project envisages linking of the Pakistani southwestern port city of Gwadar with China's Xinjiang Uygur Autonomous Region through a wide network of roads and railways. The project will become an alternative to transportation via the Strait of Malacca.
Energy
Pakistan is also poised to implement oil and gas imports from Azerbaijan. Pakistani Foreign Ministry earlier gave the go-ahead to the signing of a relevant agreement with Azerbaijan, while the move is expected to lessen energy dependence of Pakistan on Middle Eastern countries. Currently, Pakistan is importing oil from Gulf Arab countries including the United Arab Emirates (UAE), Kuwait and Saudi Arabia, while it is purchasing gas from Qatar.
Within the sixth session of Pakistan-Azerbaijan Joint Economic Commission held in April 2016, the sides agreed to promote investment opportunities in the energy sector focusing on supply of crude, refined oil products, LPG and LNG.
Trade and economy
The development of trade and economic cooperation between the countries stands in the attentional spotlight. Azerbaijani Ambassador to Pakistan Ali Alizada told Trend that the countries intend to develop the economic cooperation, mentioning such spheres as defense industry, agriculture, textile industry, pharmaceutical industry and the field of medical equipment, trade of tinned products, energy and tourism, use of transport corridors and infrastructure projects, and others.
The envoy said that the governments of Azerbaijan and Pakistan are considering the introduction of a system of free trade.
Pakistan has earlier offered Azerbaijan to sign a free trade agreement. The issue was on agenda during the visit of Pakistan's Commerce Minister Khurram Dastgir Khan in Azerbaijan in October 2016.
"Preparation of a draft free trade agreement and its negotiation is a process that requires a lot of time. The agreement must satisfy both sides, meet trading interests and take into account the priorities," Alizade said.
The diplomat also highlighted reforms in customs (improvement of the single window principle, introduction of the green corridor regime), as well as simplification of visa procedures, mentioning that these reforms encouraged Pakistan's business community to cooperate with Azerbaijan.
Also, Azerbaijan will send a trade mission to Pakistan in February to increase the awareness about its local production. Besides, several reciprocal visits of representatives of governments and business circles of the two countries are planned to be held in the short run.
Trade turnover between Azerbaijan and Pakistan amounted to $7.3 million in 2016, according to Azerbaijan's State Customs Committee. Pakistan has already developed a 5-year trade plan on the increase of the export volume to Azerbaijan up to $500 million.
Attraction of investment
Alizade went on to say that the main advantages of Azerbaijan for the attraction of investments is its growing economy, relevant business environment and a high level of competition.
He mentioned that the Azerbaijani Embassy in Pakistan provides local businessmen as well as public and private enterprises with information about technology parks and industrial districts existing in Azerbaijan, mentioning that Pakistani businessmen consider investing such facilities. He emphasized that Pakistani businessmen have big opportunities to benefit from participation in these projects.
A number of technology parks and industrial districts have already been created in Azerbaijan. They offer favorable conditions for business, tax exemption, simplified procedures for entrepreneurial activity and attracting foreign investment.
Work is currently underway in Azerbaijan to create plants and enterprises in the Sumgayit Chemical Industrial Park, Balakhani, Garadagh, Mingachevir and Pirallahi industrial parks, Mingachevir High Tech Park, Sumgayit Technologies Park, as well as in Neftchala and Masalli industrial districts.
Residents of Azerbaijan's industrial parks are exempt from real estate, land, profit taxes, as well as value-added tax on import of equipment for a period of seven years.
Tourism
Alizade said that there are big prospects for the cooperation in the sphere of tourism, emphasizing the importance of the ASAN visa system, which provides for simplified visa procedures for foreign citizens.
"The participation of Pakistan's tourism companies in exhibitions held in Baku, the exchange of information and experience, provision of more information on tourism opportunities of the two countries are under permanent attention," said Alizada.
Azerbaijani embassy regularly holds presentations on the country's tourism opportunities, acquaints travel agencies and nationals of Pakistan with tourism infrastructure, tourism products, by attracting them in every possible way to visit Azerbaijan.
The envoy is confident that the promotion of Azerbaijan's tourism opportunities, simplification of visa procedures via ASAN Visa system will increase tourist flow from Pakistan.
Azerbaijan simplified the visa regime and starting from January 10, 2017, foreign citizens are able to register visas for entry into Azerbaijan via ASAN Visa system within three days.
A unique attribute of Azerbaijan-Pakistan bilateral relations is strong support that both countries extend to each other on issues of mutual interest and international arena. Pakistan was among the first countries that recognized the independence of Azerbaijan in October 1991
--
Nigar Abbasova is AzerNews' staff journalist, follow her on Twitter: @nigyar_abbasova
Follow us on Twitter @AzerNewsAz