Gymnastics Federation: Azerbaijan to take action against biased refereeing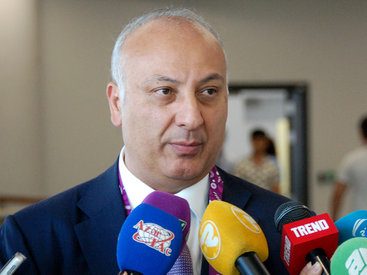 By Nigar Orujova
The Azerbaijan Gymnastics Federation is discussing measures that will be taken against judges who underestimated performance of Azerbaijani gymnasts in the group exercises with five ribbons as part of the First European Games in Baku on June 17.
Vice President of the Federation Altay Hasanov said to Vestnik Kavkaza news portal.
Sabina Abbasova, Aynur Mustafayeva, Alexandra Platonova, Siana Vassileva and Diana Doman received only 16.7 points, ranking eight, and that deprived them to fight for a medal in the final of this discipline on June 21.
Hasanov stressed a bias judging is observed in the rhythmic gymnastics for years. "We are struggling with this by any legal means: lodge a protest, advocate in the press, and write letters to the management of the European Federation. Unfortunately, nothing serious happens, as subjective judging is continuing."
He stressed it seems as if some forces control these processes. "Ultimately, there is no progress in art gymnastics, because countries, in particular Azerbaijan that is seeking to do everything possible to create conditions for the development and promotion of this sport, are permanently marked down at major international tournaments.
"Today, the European Games are underway for the first time in Azerbaijan, organization is great, conditions are excellent, teams are very respectable and many countries have arrived. However, what's on in rhythmic gymnastics should not be in a similar festival of sport," Hasanov noted with regret.
"We are observing that, and this can be seen even with the naked eye, as the countries that are not performing well, lose things, somehow get scores higher than the team of Azerbaijan that did everything right in the first exercises with five ribbons, and performed at the high level," he pointed out.
Management of the Federation is now discussing the measures we will take, he added. "We were hoping for the goodwill of judges, that they will be judged objectively, in the end. Unfortunately, this does not happen, so we are now thinking about how to protest to these actions of the judges. We will have talks with the international legal firm for help in this matter."
"There is no room for emotions in this issue, emotions are the lot of fans who also understand that this happens, and unfortunately, not for the first year. It is felt that all these are deliberately done and especially to our team, although specialists, independent experts say this is wrong in relation to Azerbaijan," he stressed.
"We have plenty of evidence. There is a video on YouTube, there are many other facts, so we want to do it within the law - to show that these people are unworthy to judge the competition of this scale. They must be punished," Hasanov stressed.
Azerbaijani national team is successful at the first European Games Baku 2015, placing the second in the overall ranking with 19 medals, eight of which are gold.
So far, the country possesses nine medals in Wrestling, six medals in Karate, and by one medals in Canoe Sprint, Gymnastics Artistic, Taekwondo, and Triathlon.
The Azerbaijani team in artistic gymnastics, including Oleg Stepko, Eldar Safarov and Petro Pahnyuk, scored 174.195 points in the first day of the competition.
Baku 2015 European Games is an innovative competition that gathered over 6,000 athletes from 50 countries to compete in 20 sports. Twelve sports will provide licenses for Rio 2016 Olympic Games in Baku.
--
Nigar Orujova is AzerNews's staff journalist, follow her on Twitter: @o_nigar
Follow us on Twitter @AzerNewsAz