Maiden Tower, Palace of Shirvanshahs receive Certificate of Excellence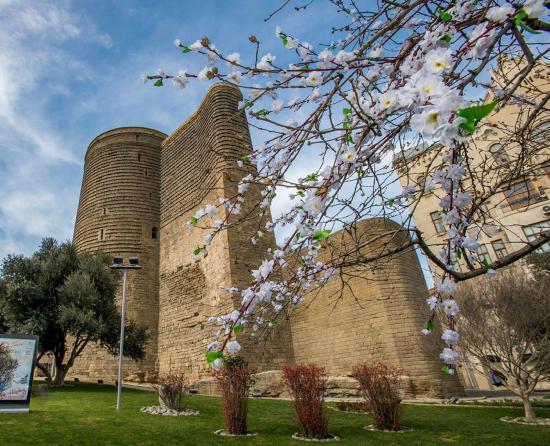 By Laman Ismayilova
Azerbaijan's Maiden Tower and Palace of Shirvanshahs have been awarded with the Certificate of Excellence.
The Certificate of Excellence has been introduced since 2002 and is awarded every year based on feedback and attitudes of millions of TripAdvisor users from around the world.
Based on satisfaction of millions of people in cities around the world, Tripadvisor selects "best of the best" once a year.
Baku's Icerisheher or Old City with the Shirvanshah's Palace and Maiden Tower' comprises the remains of a medieval town, which has been the capital of Azerbaijan since 1191.
The Old City within the walls is a maze of narrow alleys, with ancient residences, stores and mosques.
It also harbours the Maiden Tower, a cylindrical eight story structure 29.5 meter high. The majestic and mysterious monument-the Maiden Tower is rising in the south-eastern part of the fortress of Icherisheher.
It is a beautiful place to visit by day and is gorgeous when lit up at night. An utter gem and well worth being high on your list of priorities if you're planning to visit Baku.
Some suggest that it was constructed in between the 4th and 6th centuries AD others have speculated it was built somewhere in between the 11th and 12th centuries.
The Tower has a secret underground passage which is thought to have run from the tower to the Shirvanshahs' Palace, which was the last residence of the rulers of the Shirvan State, the most powerful state of Azerbaijan's history. An underground passage was discovered in the Walled City during archaeological excavations in 1982.
The symbol of Baku was included into the list of World Cultural Heratage of UNESCO in December of 2000.
The Shirvanshah's Palace, also located within the medieval area, is the most prominent example of Azerbaijan architecture from the Shirvanshah dynasty.
Construction of the Palace of Shirvanshahs, which was held in the period of 13th-16th centuries, has been associated with the transfer of Shirvanshahs' capital from Shamakhi to Baku, famous for its harbor. The Palace forms a complex, consisting of the residential building of Shirvanshahs, the second residential building (for servants), Divankhana, tomb, palace mosque built in 1441, the remains of the destroyed Key Gubad mosque, Murad's gates, hamam (bath) and mausoleum of famous scientist Seyid Yahya Bakuvi.
The palace complex was declared a museum in 1964, and taken under state protection.
A unique architectural and cultural ensemble along with the Old City and the Maiden Tower, was included in the UNESCO World Heritage List in 2000. The pearl of Azerbaijan's architecture and culture, Icherisheher, including the Palace of the Shirvanshahs and Maiden Tower, was awarded UNESCO's status of enhanced protection in 2013.
---
Laman Ismayilova is AzerNews' staff journalist, follow her on Twitter: @Lam_Ismayilova
Follow us on Twitter @AzerNewsAz