FIDE calls on Armenia to join Chess World Cup, Chess Olympiad in Baku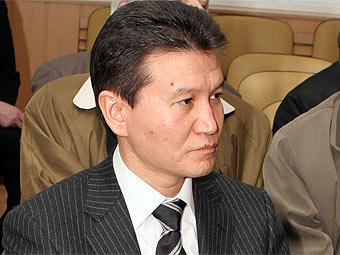 By Nigar Orujova
Armenia should participate in the Chess World Cup and the Chess Olympiad, which are to be held in Baku, President of the World Chess Federation Kirsan Ilyumzhinov said on October 2.

Ilyumzhinov said that he will visit Armenia and meet with representatives of the local chess authority on October 17.

"During the meeting with the President Serzh Sargsyan, I will talk about the Chess World Cup and the Chess Olympiad to be held in Baku. FIDE is a big family, and we want Armenian national team to take part in the competitions. We will discuss this issue. The last time being in Armenia, I said they should take part in these tournaments," Ilyumzhinov said.

He also stressed that Azerbaijan has given the security guarantees to the Armenian team.
The FIDE Congress has assigned Azerbaijan to hold the World Chess Cup in 2015 and Chess Olympiad in Baku a year later.
Azerbaijan and Armenia are in tense relations because of the Nagorno-Karabakh conflict that remained unresolved for over 20 years. The conflict emerged over Armenia's territorial claims against its South Caucasus neighbor.
Since a war in the early 1990s, Armenian armed forces have occupied 20 percent of Azerbaijan's territory, including Nagorno-Karabakh and seven surrounding regions. Armenia has not yet implemented the U.N. Security Council's four resolutions on its pullout from the neighboring country's territories.
Ilyumzhinov, who arrived in Baku to attend the FIDE Chess Grand Prix kicked off on October 1, further said the tournament is being held at the highest level.

He said that out of 181 FIDE member states, only Azerbaijan has a state program for the development of chess. The FIDE president said the relevant structures have already carried out the state program and the results are well known.

"Thus, Azerbaijan has hosted a number of influential competitions, and it became the European champion for two times," Ilyumzhinov noted.

He said the extension of the state program for five years would have accelerated the development of chess in Azerbaijan.