F1: Motosport fans gather in Baku for one-of-a-kind experience [PHOTOS]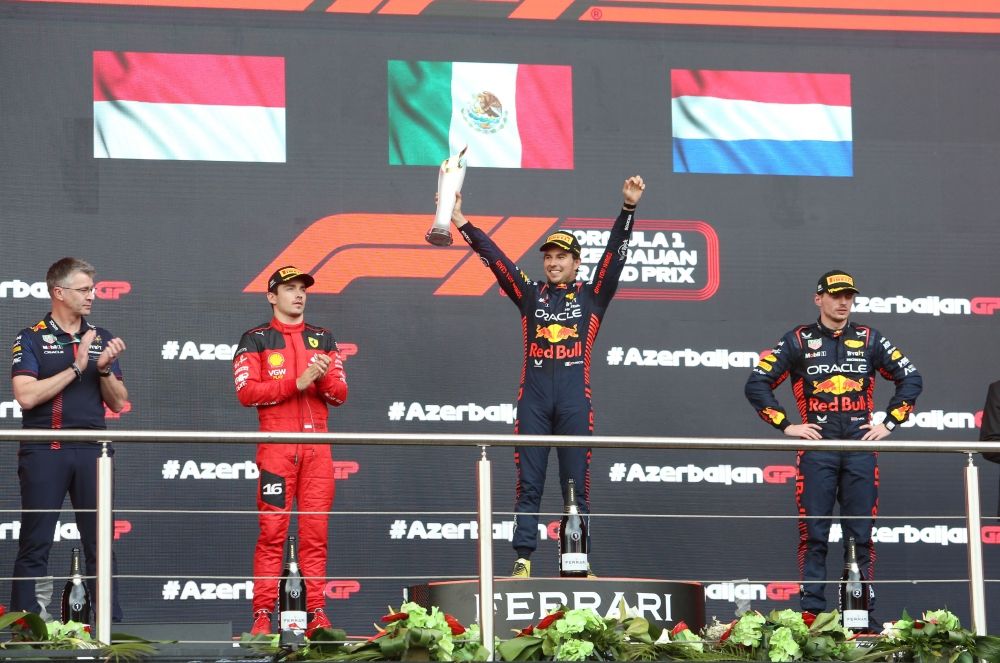 Motosport fans from all over the world have flocked to the City of Winds for one-of-a-kind experience.
Smell of gasoline and burned tires gave Formula 1 fans an adrenaline rush that won't be forgotten for a long time.
The 2023 Formula 1 Azerbaijan Grand Prix became the first event in the season to feature a new format specifically adopted for those Grands Prix, which include the additional sprint race.
2023 Formula 1 Azerbaijan Grand Prix main features
The format consisted of a single practice session, followed by the qualifying session which determined the grid for the Grand Prix race.
New qualifying session called "sprint shootout" was held in place of the former second practice session to determine the grid for the sprint.
The new sprint shootout qualifying was run shorter than the traditional qualifying: the first segment (SQ1) was 12 minutes, the second segment (SQ2) lasted 10 minutes, while the third segment (SQ3) was about 8 minutes.
F1 pilots who climb Grand Prix podium
Red Bull pilot Sergio Perez became a winner of the Formula 1 Azerbaijan Grand Prix. His team mate Max Verstappen finished in second place,while Ferrari driver Charles Leclerc ranked third.
National anthems of Mexico and Austria were played in an awarding ceremony.
The awards were presented by Head of the Baku Executive Power Eldar Azizov, Minister of Youth and Sport Farid Gayibov, President of the Azerbaijan Automobile Federation Anar Alakbarov, President of the International Automobile Federation Mohammed Ben Sulayem and Executive Director of the Baku City Circuit Company Magsud Farzullayev.
Speaking about the race, Max Verstappen said that although he was naturally disappointed not to claim victory in the Azerbaijan Grand Prix, he feels he gathered plenty of valuable information about his Red Bull that will aid his cause moving forward, Azernews reports citing Formula 1 website.
"I think, of course, the Safety Car was a bit unlucky. Then I had to push again, I tried to stay very close [to Perez], to try and get into the DRS, but I think the tyres were overheating a bit because of that, trying to follow. But also, the balance, I was struggling to be really consistent. I was playing around with the tools a little bit and, I think when I got that sorted, I would say the last 10 laps were actually quite good again.[It was] just a little bit too late [to challenge Perez], [but] I think a lot of things learned again throughout the race, and, of course, at the end of the day, a good team result," he said.
As for Perez eating into his championship lead, which now stands at a much-reduced six points, Verstappen said: "We know it's a very long season. As I said, [there were] a lot of things I learned again.Baku is again quite different to Miami, and Miami is going to be again very different to the other tracks we go to. But you keep learning; it cannot be perfect all the time, and I think on those days you can learn."
Record number of spectators
The adrenaline-fuelled race has gathered F1 fans from 60 countries. Formula 1 race has been held in Azerbaijan for the seventh year. However, this is the first time that tickets are sold so quickly.
As the Baku City Circuit's National Press Officer Turab Teymurov earlier told Azernews, the 2023 Formula 1 Azerbaijan GrandPrix has broken all records for ticket sales. For the first time, the tickets were sold so quickly and broke all records for ticket sales.
Most of the tickets have been bought by motorsport fans from the Netherlands, the UK, Turkiye, Kazakhstan, India, the USA, and Mexico.
Fantastic entertainment program
A thousand drones took to the skies over Baku. Spectacular drone show left F1 fans speechless.
Moreover, Azerbaijan Automobile Federation organized an eye-catching classic car parade.
Around 30 classic cars took part in the car parade, which aroused great interest among the spectators.
After a three year break, concert programs were once again delighted F1 race fans. DJ Don Diablo and Dj Hardwell as well as local pop stars got the audience wowed and dancing along.
Azerbaijan Grand Prix contract extended for three years
After a series of talks, it was announced that the Azerbaijan Grand Prix will remain in the F1 calendar until at least 2026.
Negotiations are underway to extend the contract for holding the Formula 1 Azerbaijan Grand Prix. The last Grand Prix is scheduled to be held in Baku this year. More detailed information will be provided in future.
In his statement, the President and CEO of Formula said that Stefano Domenicali expressed his satisfaction with the Baku City Circuit.
"The Baku City Circuit has become a hugely popular venue for Formula 1. It is an incredible circuit which always delivers huge drama, and has played host to some of the most exciting races in recent memory. We are delighted to extend our relationship with the country of Azerbaijan and look forward to continuing our growth together," he said.
The Azerbaijan Grand Prix promises to bring more excitement in the coming years.
--
Follow us on Twitter @AzerNewsAz