Azerbaijani karate fighters claim eight medals in Spain [PHOTOS]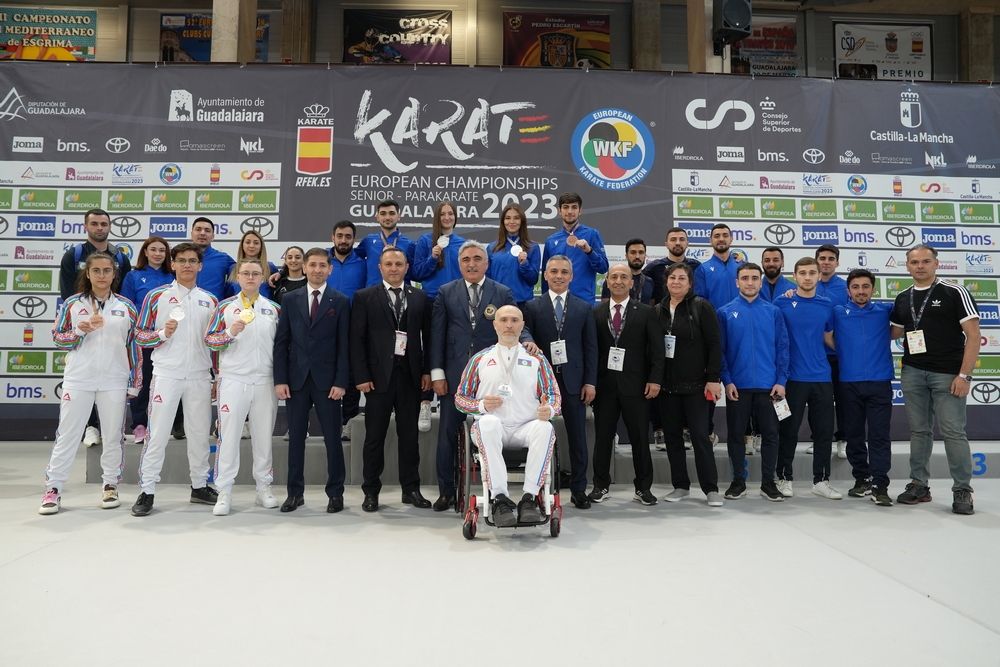 Azerbaijani karate fighters have claimed eight medals at the 2023 European Karate Championships in Guadalajara, Spain.
The karate team brought home one gold, four silver, and three bronze medals, Azernews reports.
The medals came from Irina Zaretska (-68 kg), Farida Aliyeva (68+ kg), Tural Agalarzada (- 67 kg), and Farid Agayev (- 75 kg).
Meanwhile, Emilia Mitlinova came first and Eldar Ahmadov second, while Nihat Mammadzada and Ariyana Mitlinova took third place in the European Para-Karate Championship. Azerbaijani para-karate players were second in the medal standings.
With this result, Azerbaijan shared the 9th-10th places with Croatia among the countries that won medals. Around 468 karate fighters from 48 countries joined the 5-day continental championship.
Next time, the European Karate Championships will be held in Croatia in 2024.
Over the past few years, national karateka won prestigious international tournaments, and European and World championships.
Rafael Agayev has managed to achieve all of the highest sporting victories in karate; he is a multiple European and world champion.
For outstanding sports achievements, he was repeatedly awarded by the leadership of the National Olympic Committee, and the Youth and Sports Ministry of Azerbaijan.
President of the World Karate Federation Antonio Espinosa called him the "Diamond of the Karate World".
Irina Zaretska is also well-known for her numerous international victories.
She won a gold medal at the Karate1 2014 Premier League in Almere, a bronze medal at the World Karate Cup 2014, a gold medal at the Premier League Karate1 2015 in Istanbul, a silver medal at the Premier League Karate1 2017, etc.
In 2022, Azerbaijani karate fighters grabbed six medals including three gold and three bronze at Karate1 Premier League in Baku.
Eminaga Guliyev (60 kg), Irina Zaretskaya (68 kg), and Asiman Gurbanli (+84 kg) enriched the country's medal haul with gold medals.
Bronze medals came from Tural Agalarzada (67 kilograms), Turgut Hasanov (84 kg), and Murad Hajizada (+84 kg).
In February, Azerbaijani karate fighters captured five bronze medals at the 2023 Karate1-Premier League event in Egypt, Azernews reports.
Tural Agalarzada (60 kg), Farid Agayev (75 kg), Turgut Hasanov (84 kg), Madina Sadigova (55 kg), and Irina Zaretska (68 kg) came third in Cairo.
Three karate fighters - Aminagha Guliyev (60 kg), Ayxan Mamayev (84 kg), and Asiman Gurbanli (+84 kg) were injured in the first day of the race and failed to win medals.
---
Follow us on Twitter @AzerNewsAz