Turkmenistan, Kazakhstan, Iran keen to attract additional cargo to KTI railway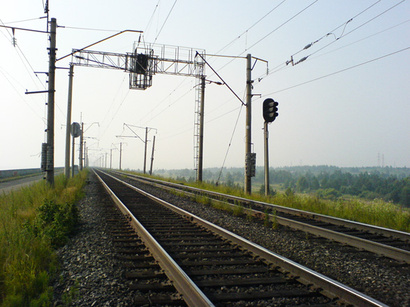 By Aynur Karimova
Turkmenistan, Kazakhstan and Iran have discussed ways of how to attract additional cargo flows, in particular from Russia and several European countries, to the Kazakhstan-Turkmenistan-Iran railway line.
The discussions were held in Turkmenistan's capital Ashgabat at the trilateral meeting of Turkmen Ministry of Railway Transport, Kazakhstan Railways and Iran Railways, the Turkmen government reported on March 1.
The organization of container traffic from China to Iran through the territories of Kazakhstan and Turkmenistan was among the discussed issues as well.
This is not the first initiative to organize container trains from China to Iran via the Central Asian states. Earlier, Askar Mamin, the Head of Kazakhstan Railways JSC, and Mohsen Poursaeed-Aqaei, the Managing Director of Iran Railways, expressed interest in this issue.
The Kazakhstan-Turkmenistan-Iran railway, which was put into operation in December 2014, is designed to facilitate the optimization of cargo traffic throughout the Eurasia continent.
Preliminary estimates show that this route, being part of the North-South international transport corridor, will manage to transport 3-5 million metric tons of cargo per year. In the long term, the transportation will increase to 10-12 million metric tons.
The new railway line opens the optimal transport route between countries of Europe and the Persian Gulf, contributing to the creation of related infrastructure, logistics centers, new points of growth, thousands of new jobs.
In February 2016, the first test container train launched on the China-Kazakhstan-Turkmenistan-Iran railway route proceeded from Turkmenistan to Iran.
It is expected that China's joining the railway will give impetus for developing trade relations and increasing the volume of trade turnover.
The total length of China-Kazakhstan-Turkmenistan-Iran route is about 10,000 kilometers, and the journey time is about two weeks.
--
Aynur Karimova is AzerNews' staff journalist, follow her on Twitter: @Aynur_Karimova
Follow us on Twitter @AzerNewsAz