Turkmenistan develops gas infrastructure to meet EU needs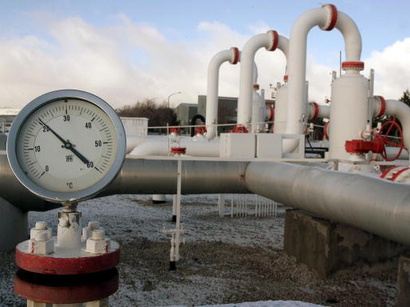 By Aynur Jafarova
Turkmenistan is developing its own gas infrastructure to meet the European Union's (EU) needs, which is expected to increase significantly in the long term.
This was noted in the analytical report of the Turkmen Ministry of Petroleum and Mineral Resources, Trend Agency reported.
Since 2010 Turkmenistan started the construction of the East-West gas pipeline to expand exports of natural gas to the world markets.
The annual capacity of the pipeline will be 30 billion cubic meters per year. The length of the pipeline running through the territory of Mary, Akhal and Balkan provinces will be over 766 kilometers.
Customer of the construction and the contractor for the project was Turkmengaz State Concern. The project implementation should be completed within five years.
"Pipeline construction - cost of which amounts to more than $2 billion - will provide wide range of opportunities for exports of "blue fuel "," the article said. "After the delivery of natural gas from the Galkynysh field from other subsurface to the western region of the country the possibility of its transfer to foreign countries will significantly increase. Moreover, this pipeline will dock large eastern fields of the country with its western regions."
Turkmenistan's giant Galkynysh field located in Turkmenistan's Mary province is considered the second largest deposit in the world, with reserves of 26.2 trillion cubic meters. Thanks to the opening of Galkynysh gas field the total proven reserves and potential hydrocarbon resources of Turkmenistan have significantly increased.
Turkmenistan is one of the key players in the energy market of the resource-rich Caspian region. The Central Asian state has the world's fourth largest natural gas reserves after Russia, Iran, and Qatar, and produces about 70-80 billion cubic meters of gas a year.
Turkmenistan intends to increase the production volume and export of natural gas, and diversify the routes of supply to major world markets as part of its energy strategy.
Under the program for oil and gas development, the country's annual natural gas production is planned to reach 250 billion cubic meters by 2030, mostly for export purposes.