Türkiye's target in defense exports to exceed $6B in 2023, says President Erdogan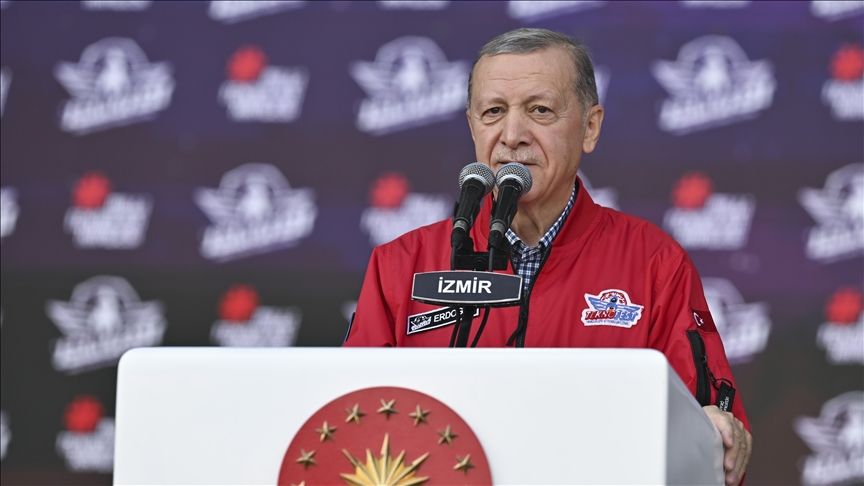 Türkiye's target is to exceed its defense exports to more than $6 billion in 2023, Turkish President Recep Tayyip Erdogan said on Friday, Azernews reports, citing Anadolu Agency.
"With our defense industry initiatives, our exports are increasing exponentially," Erdogan told a packed crowd at TEKNOFEST Izmir, which is being held at the city's Cigli Airport.
Türkiye is meticulously implementing 850 projects in the defense industry, he added.
The five-day TEKNOFEST, Türkiye's premier technology and aerospace event kicked off on Wednesday and features competitions, air shows, exhibitions, and workshops, as visitors can experience vertical wind tunnels, simulations, and planetarium shows.
The event has been jointly organized every year by the Turkish Technology Team (T3) Foundation and the Ministry of Industry and Technology since 2018, in cooperation with other ministries and dozens of other public institutions, private companies, and universities.
Erdogan said around 330,000 have so far visited Türkiye's major tech festival.
"I believe that the festival will be an event worthy of Izmir and the 100th anniversary of our republic in every respect," he said.
Anadolu has been among TEKNOFEST's media shareholders as a global communications partner of the event since the first edition.
The event was previously held in various Turkish cities in even years and in the metropolis of Istanbul in odd years. To mark the 100th anniversary of the founding of the Republic of Türkiye, the event was planned in three different provinces this year.
The first edition of the event this year was held at Istanbul's Ataturk Airport in May, welcoming a world record of 2.2 million visitors. The second was held from Aug. 30- Sept. 3 in the capital Ankara, attracting nearly 1 million people.
---
Follow us on Twitter @AzerNewsAz