Gazprom CEO visits Turkmenistan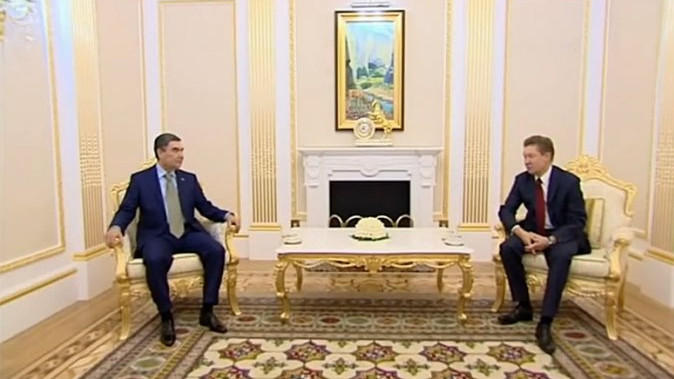 By Abdul Kerimkhanov
Intergovernmental relations between Turkmenistan and Russia can be characterized as an open, confidential dialogue of long-time friends and reliable, time-tested partners.
Representatives of the Russian state-owned concern Gazprom headed by the company's board chairman, Alexey Miller, made a working visit to Turkmenistan on March 27. In Ashgabat, Miller was received by President Gurbanguly Berdimuhamedov, Turkmen media reports.
During the talks, the sides discussed issues of cooperation in the energy sector, according to Gazprom press release.
It is underlined that in cooperation in the gas sector Russia and Turkmenistan are based on the agreement of 2003. Turkmen publications did not report on the upcoming visit.
In October 2018, the head of Gazprom announced that from January 1, 2019, the concern would resume purchases of Turkmen gas.
"With regard to the volume of gas supplies and other issues of contractual relations, today negotiations will be held at a technical level. We expect that in the very near future these agreements will be reached," Miller said at the time.
However, gas supplies to Russia have not begun.
Russia has long been the main buyer of Turkmen gas. In 2009, the parties began to argue about the price, and at the same time, an explosion occurred on the gas pipeline.
As a result, deliveries for several months were interrupted. Iran became the main buyer first, and at the end of 2009 became China, after the opening of the new pipeline. When Russia returned to the number of buyers, it seriously reduced the volume of supplies, being in third place after China and Iran.
In 2015, representatives of Turkmengas announced that Gazprom did not pay bills and declared the Russian concern insolvent. In response, Gazprom filed a lawsuit demanding a review of prices for gas purchased in Turkmenistan and a return of $ 5 billion for overpayment.
In 2016, Russia stopped buying gas from Turkmenistan, which was preceded by a long conflict between Gazprom and Turkmengas. Later, Gazprom demanded compensation for damage under a broken contract.
The negotiations, which have continued since autumn 2018, were preceded by a conflict between Gazprom and Turkmengaz. For several years, the parties threatened each other with proceedings in international arbitration.
The Iranian side stated that it is developing domestic production and no longer needs Turkmen gas in 2014. It was announced that deliveries continue only to maintain relations between countries.
In January 2017, Turkmenistan demanded that Iran pay off debts and cut off supplies. In response, Iran completely refused to purchase. China has been and still is the only buyer of Turkmen gas.
Diplomatic relations between Turkmenistan and Russia established on April 8, 1992.
Gazprom is a global energy company focused on geological exploration, production, transportation, storage, processing and sales of gas, gas condensate and oil, sales of gas as a vehicle fuel, as well as generation and marketing of heat and electric power.
Gazprom holds the world's largest natural gas reserves. The Company owns the world's largest gas transmission system with a total length of 172,100 kilometers. Gazprom sells more than half of its gas to Russian consumers and exports gas to more than 30 countries.
About 190 companies with Russian capital operate in Turkmenistan. The ARETI International Croup holding (formerly ITERA) has been operating since 2009 in the Turkmen sector of the Caspian Sea on the basis of the production sharing agreement.
At the same time, Russia's Gazprom, a traditional trade partner, completely stopped purchasing Turkmen gas in 2016.
The strategic partnership agreement between Turkmenistan and Russia was signed in Ashgabat on October 2, 2017.
---
Abdul Kerimkhanov is AzerNews' staff journalist, follow him on Twitter: @AbdulKerim94
Follow us on Twitter @AzerNewsAz