U.S., Kazakhstan sign agreements worth $2.5B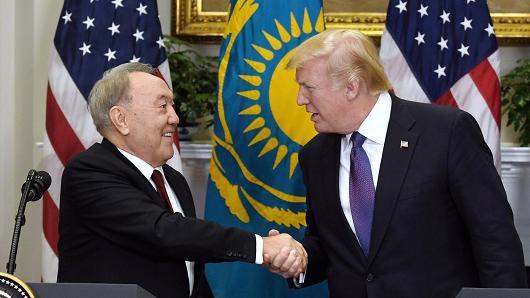 By Kamila Aliyeva
Kazakhstan and the U.S. signed contracts worth $2.5 billion following the visit of Kazakh President Nursultan Nazarbayev to Washington, the State Department's press service reported.
"During the visit, numerous commercial contracts and documents were concluded, including new agreements between The Boeing Company, GE Transportation, GE Digital, Chevron, Air Astana, KazTemirZholy, SCAT Airlines, and the Samruk-Kazyna National Wealth Fund for the purchase of U.S. products and services valued at over $2.5 billion," the message said.
It was noted that the U.S. and Kazakhstan will continue to cooperate in the World Trade Organization. The sides collaborate on implementing WTO obligations, resolving outstanding disputes, improving the Kazakhstani investment climate, and promoting greater bilateral investment.
"The two countries recently concluded an air navigation agreement, which will strengthen bilateral ties by easing the travel of senior officials between the U.S. and Kazakhstan," according to the State Department's message.
The volume of bilateral trade in 2016 reached $1.9 billion and both sides are keen to develop relations in this area.
During their visit, the two leaders welcomed two separate deals between Boeing and Kazakh airlines totaling over $1.3 billion, sustaining an estimated 7,100 direct and indirect U.S. jobs.
Specifically, SCAT Airlines ordered six Boeing 737 MAX 8 airplanes. With the first aircraft scheduled for delivery in March 2018, these will be the first 737 MAXs owned and operated in Kazakhstan and Central Asia, bolstering SCAT's regional and international network.
Furthermore, Air Astana, the national air carrier of Kazakhstan, affirmed its commitment, under the terms of an existing contract, to purchase three 787 Dreamliners, which are scheduled for delivery in 2021.
At the same time, General Electric and Kazakhstan Temir Zholy (KTZ) concluded two new strategic initiatives for $900 million, which will sustain or create over 3,500 U.S. jobs.
GE Transportation will design and manufacture up to 300 shunter locomotives for KTZ, which will be delivered in 2019.
GE Transportation also signed an 18-year service agreement to maintain and support 175 current KTZ GE Evo locomotives starting from this year. The deal will include an expansion of the main KTZ rail facility in Astana.
The development in cooperation can be viewed also with regards to the digital sphere. GE Digital and Kazakhstan's Samruk-Kazyna National Wealth Fund signed a strategic partnership agreement aimed at accelerating the digital evolution of the Fund's portfolio of industrial companies.
The agreement demonstrates the companies' progress in creating a sustainable digital ecosystem in Kazakhstan, and provides for the joint assessment of GE digital solutions based on the Predix platform.
The president of Kazakhstan is on an official visit to the U.S., which began on Tuesday and will last till Thursday. As part of this trip, Nazarbayev will also visit New York. On January 18, the United Nations Headquarters will hold debates on the topic "Non-proliferation of weapons of mass destruction: confidence-building measures" chaired by the leader of Kazakhstan.
---
Kamila Aliyeva is AzerNews' staff journalist, follow her on Twitter: @Kami_Aliyeva
Follow us on Twitter @AzerNewsAz