Iranian petroleum minister not to attend Doha meeting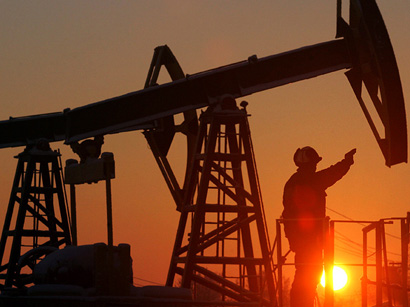 By Fatma Babayeva
Iranian Petroleum Minister Bijan Namdar Zanganeh will not attend the gathering of the large oil producers in Doha on April 17 to discuss freezing oil output, reported Bloomberg on April 13.
Zanganeh will instead send his representative to Doha, the agemcy cited Seda reporter Reza Zandi as saying.
OPEC member countries and non-OPEC oil producers agreed to meet in Qatari capital Doha in order to consider putting a cap on their production volumes of oil to keep oil outputs in the market at the levels at early 2016 hoping to stabilize oversupplied oil market and push prices up.
Russia, Saudi Arabia, Qatar and Venezuela previously agreed in Doha on February 16 to support world oil prices by maintaining the production during 2016 at the level of January, if other manufacturers to join this initiative as well.
Ecuador, Algeria, Nigeria, Oman and Kuwait are also among countries that expressed a will to join the act.
Mohammed bin Salman, the deputy crown prince and Defense Minister of Saudi Arabia said earlier in April, that Saudi Arabia will not put a cap on oil production, if other oil producers and Iran do so as well, reported Bloomberg.
However, Iran does not support the major oil producers' attempt to freeze oil output.
Saudi Arabia, the major OPEC's exporter of oil, is not planning to cut its production level. Ali al-Naimi, the Oil Minister of SA rejected the possibility of reducing Saudi's oil output.
Recently, Russia and Saudi Arabia reached oil-freeze consensus regardless Iran's position.
Saudi Arabia will make final decision on freezing production at the Doha meeting that will happen this weekend.
Iran repeatedly said before that it does not have plans to "take neutral speed" on extracting oil but tries to achieve the level of oil production during 2011-2012 before sanctions imposed on Iran by the West, said Eldar Kasaev, Expert Council of the Union of Oil and Gas Producers of Russia on April 12.
Before sanctions, daily production of oil in the country reached about 4-4.3 million barrels, which is 1.5 times higher than the current figures, Kasaev added.
The expert believes that only few of oil producers will agree on a temporary freeze of production.
Iran's objection to freeze oil production will incentivize Saudi Arabia who has been longtime geopolitical and economic opponent of Tehran not to stop growth of crude extraction in practice even if it joins agreement in words, added Kasaev.
Iran increased its oil export approximately to 1.55 million barrels per day in March 2016 from average export level of 1.1 million barrel per day during 2015, according to the statistics of International Energy Agency and Reuters surveys.
Total oil output of the country increased by less than 300,000 barrels per day in February 2016, according to OPEC's monthly report for March.
Iran earlier said that it would increase oil exports by one billion barrels per day.
Iran has about 30-50 million barrels of crude oil and gas condensate stored in tankers, which makes it possible for Iran to keep its exports at the current level for more than half a year without an immediate need to increase the production level
---
Fatma Babayeva is AzerNews' staff journalist, follow her on Twitter: @Fatma_Babayeva
Follow us on Twitter @AzerNewsAz