Azerbaijan to meet 25-30% of Bulgaria's gas needs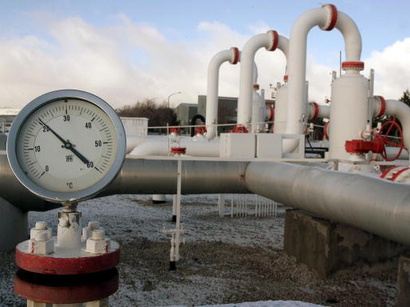 By Trend
Azerbaijan will meet 25-30 percent of Bulgaria's gas needs in 2020, Rosen Simitchiev, adviser to energy minister of Bulgaria, said June 13 at the international conference titled "Southern Gas Corridor and Energy Security in South-East Europe" in Baku.
He noted that ensuring energy security and diversifying energy supplies are key priorities for Bulgaria and the EU.
The Southern Gas Corridor enhances Europe's energy security, he noted, adding that Azerbaijan is not only the main source, but also a key partner in the project's implementation.
The official opening ceremony of the Southern Gas Corridor was held at the Sangachal terminal, Baku, May 29.
The Southern Gas Corridor, worth over $40 billion, is considered as one of the priority energy projects for the EU, which strives for diversification of gas sources. The project envisages the transportation of gas from the Caspian region to the European countries through Georgia and Turkey.
At an initial stage, the gas to be produced in the Stage 2 of development of Azerbaijan's Shah Deniz field is considered as the main source for the Southern Gas Corridor projects. Other sources can also connect to this project at a later stage.
As part of the Shah Deniz Stage 2, the gas will be exported to Turkey and European markets via the South Caucasus Pipeline, Trans-Anatolian Natural Gas Pipeline (TANAP) and Trans Adriatic Pipeline (TAP).
---
Follow us on Twitter @AzerNewsAz