SOCAR reinforces its positions in Georgia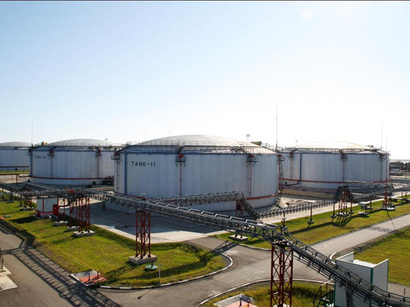 By Nigar Abbasova
Azerbaijan's energy giant SOCAR is keen on expanding and strengthening its presence and positions overseas.
SOCAR has commissioned two new storage parks in the Black Sea Oil Terminal in Kulevi (Georgia). The construction of parks was launched in 2015.
Storage Park №5 will comprise six reservoirs with the capacity of 60,000 cubic meters. The parks which will receive, store and load various oil products such as gasoline, naphtha, diesel, jet fuel and others, are constructed to export and import oil products in the Caspian region. The capacity of the park is estimated at 1.5 million tons of oil and oil products per year.
Storage Park №6 consists of five reservoirs with the total capacity of 12,000 cubic meters. The park is constructed for the storage of pyrolysis, isopropyl alcohol, and industrial oil.
The Kulevi terminal was commissioned in May 2008, while transshipment of oil products began in June. The total capacity stands at 10 million metric tons of oil cargo per year, including three million metric tons of oil, three million metric tons of diesel fuel, and four million metric tons of mazut.
Moreover, the company is now planning to construct a 360-kilometer pipeline in Georgia. The project is expected to supply almost 9,000 consumers with gas.
The number of active and potential consumers of SOCAR Georgia Gas in Adjara currently stands at 66,821 consumers, while the total length of gas pipelines operating on low and medium pressure is 972.6 kilometers.
SOCAR Georgia Gas, a subsidiary of SOCAR Energy Georgia that distributes gas in the Georgian market, operates natural gas networks across the country.
--
Nigar Abbasova is AzerNews' staff journalist, follow her on Twitter: @nigyar_abbasova
Follow us on Twitter @AzerNewsAz