Azerbaijan invited to meeting of Gas Exporting Countries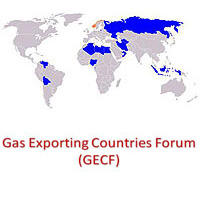 By Gunay Hasanova
Azerbaijan has been invited for a meeting of energy ministers of the Gas Exporting Countries Forum (GECF) member-states, to be held in Doha in November 2016.
The issue was mulled during the meeting between GECF Secretary General Seyed Mohammad Hossein Adeli and Azerbaijani energy minister Natig Aliyev in Baku on August 30.
The meeting participants will discuss the aspects of the new model of development of gas-exporting countries, the opportunities of the countries until 2040 and the prospects for new players to enter the gas market.
Azerbaijan joined the GECF as an observer-member November 21, 2015 during the 17th meeting of the ministers of the GECF member-states.
The GECF is an international governmental organization which provides the framework for exchanging experience and information among Member Countries. GECF is a gathering of the world's leading gas producers and was set up as international governmental organization with the objective to increase the level of coordination and strengthen the collaboration among Member countries.
GECF also seeks to build a mechanism for a more meaningful dialogue between gas producers and gas consumers for the sake of stability and security of supply and demand in global natural gas markets.
The Member countries of the Forum are Algeria, Bolivia, Egypt, Equatorial Guinea, Iran, Libya, Nigeria, Qatar, Russia, Trinidad and Tobago, United Arab Emirates and Venezuela. Azerbaijan, Iraq, Kazakhstan, the Netherlands, Norway, Oman and Peru have the status of Observer Members.
---
Follow us on Twitter @AzerNewsAz