14 July 2015 17:51 (UTC+04:00)
1 668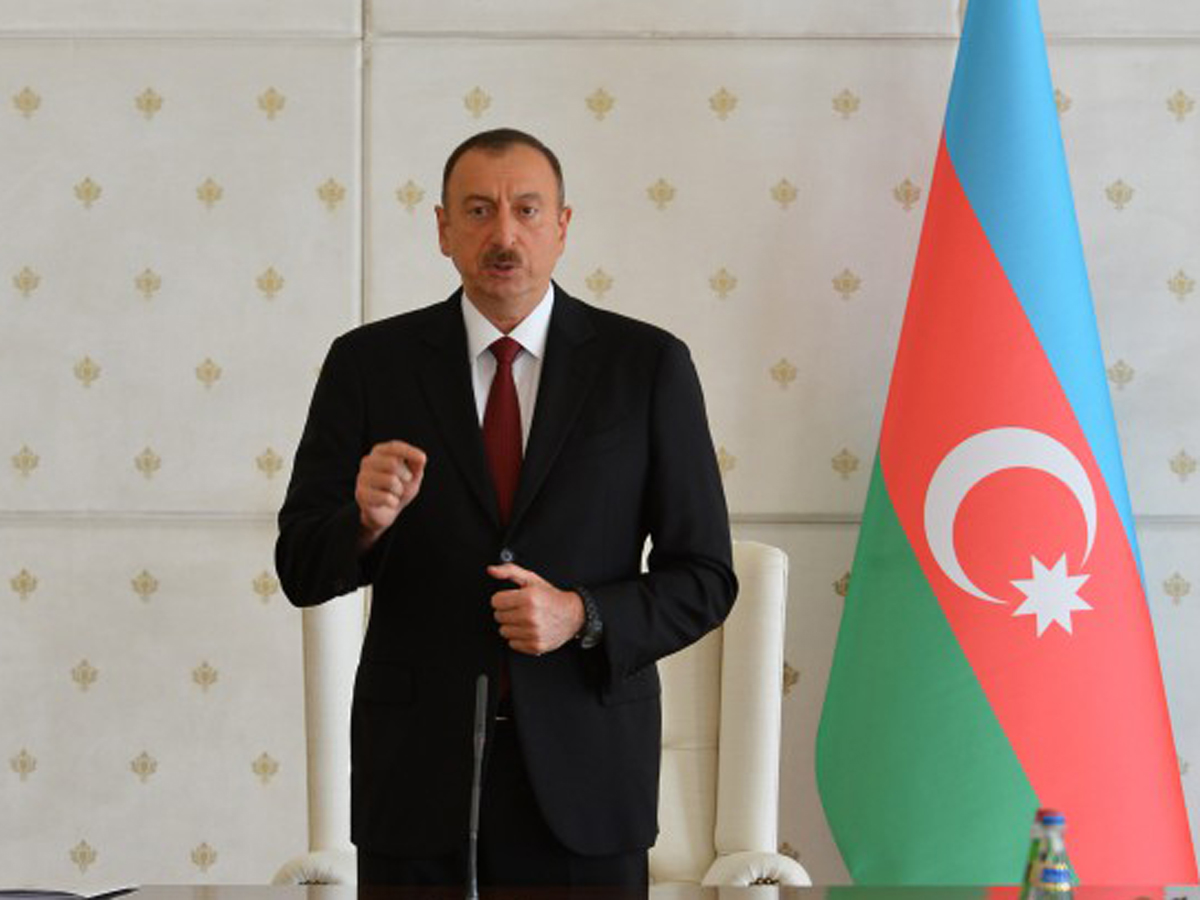 By Gulgiz Dadashova
Energy-rich Azerbaijan is keen on increasing its economic growth rates and the state is committed to support the economy on this path.
President Ilham Aliyev, addressing a July 13 meeting of the Cabinet of Ministers on the results of the country's socio-economic development in the first half of 2015 and the objectives for the future, announced that Azerbaijan can develop rapidly even in times of crisis.
The president pointed to a number of issues to ensure this growth, putting a special emphasis on doing business in the country.
Noting that a very strong class of entrepreneurs has been formed in Azerbaijan, the president urged the need to encourage the further development of Azerbaijani businesses and to ensure the receipt of tax revenues in full.
About 998 criminal cases on tax evasion and illegal entrepreneurship were opened in the first half of 2015, according to the department for the preliminary investigation of tax crimes under the Taxes Ministry.
During the reporting period, the state budget received payment in the amount of 26.37 million manat ($25.09 million), which is 4.8 times more than the same period in 2014.
"Entrepreneurs should be responsible. We have no requirements for them, only timely payment of taxes. I have been informed that recently the Taxes Ministry took a very sharp and demanding position. The Ministry should ensure that taxpayers clearly pay taxes legally and in full, and there cannot be other issues. They should not put forward any other unreasonable demands," the president said.
"Taxes, law enforcement agencies, local executive authorities in Baku and the regions require 'contributions', and 'roofing'. This is an intolerable case and it must be stopped. If they believe that no one knows about it, they are wrong. This is a very serious matter and I received signals that in some places it became widespread. It should be completely eliminated. Therefore, I gave instructions to all relevant structures and at the same time for entrepreneurs to inform me [about the practices], not to be afraid to give the signal; they need to write letters, write e-mails," President Aliyev said, emphasizing that such unpleasant cases will be strictly controlled and perpetrators will be punished.
Noting that such instances distort the country's business environment and reduce opportunities for fair market competition, President Aliyev reminded all that the country will develop thanks to its entrepreneurs.
"And if someone will harass entrepreneurs for a profit, then businesses will close their doors and leave, and it would be an intolerable case. That is, the one who does [illegally acts] betrays the state," he exclaimed.

The tourism sector was another hot topic during the Cabinet meeting, as President Aliyev mentioned that following the First European Games, the inflow of tourists to Azerbaijan has increased even more.

"Holding the First European Games became a historic event," said Aliyev. "These Games were held at the Olympic level, which showed our country's power and potential."

President Aliyev instructed his Cabinet to speed up the procedure of issuing visas to tourists and reduce fares for airline tickets and hotels in the country to ensure the development of the tourism sector.

"Prices for flights in some cases are artificially high. The question is asked, why? High-quality services are provided? I welcome it. Indeed our airline AZAL has a high service. I welcome it. But Azerbaijan does not buy fuel abroad, but produces it itself. Kerosene is sold cheaply, unlike other countries. Why are the prices high? AZAL receives large subsidies from the state. All aircrafts are purchased through the state budget. All airports are being built with public funds. All conditions have been created by the state. Why do ticket prices have to be expensive relative to other countries," he said.
The president also highlighted the need for cheap hotels.
"A number of world-famous hotel brands are operating in the country, particularly in Baku. Surely, they have their own price policy. We can't interfere to this. But, the prices are also high in hotels that offer poor service. The prices are too high in the regional hotels."
"The number of five-star hotels in Azerbaijan grows. I am glad about it, as it shows the strength of our country. It's a prestige. However there also should be two-star, three-star hotels, as low-income people cannot come and rest in Baku," the president said adding that the natural beauty of Azerbaijan is mesmerizing and one does not need to travel abroad for rest.
"That is why this issue should be in focus," said the president, urging entrepreneurs as well as the culture and tourism ministry to study opportunities.
The flow of tourists to the country is increasing every year. Overall, tourism to the Land of Fire has doubled since 2006, reaching up to 2.3 million foreign visitors in 2014. Tourist expenditures in the country increased from 91 million manats in 2006 to 1.2 billion manats in 2014.
Azerbaijan has improved its tourist potential, and is now able to host over 35,000 tourists in its 530 hotels, consisting of 23 five-star, 41 four-star, 12 three-star and 3-two star hotels.
Social problems being resolved
Thanks to measures taken by the state, drug prices should be significantly reduced before the end of the year, according to President Aliyev.
"The question is studied and after a few months will be applied. I believe that by no later than September, this issue should go to a new level and transparency will be ensured, each citizen will know what medicine to buy and how much to pay. The upper limit value of medicines will be determined. No one will be able to sell above this bar. Sellers get revenues from their medications. They also should have a normal level of income. But this should not be from a 100, 200, and 300 percent markup," he said.
President Aliyev has passed amendments to the law on medicine earlier this year. The document stipulates that the Tariff Council will regulate prices for medicine for three months, abc.az reports.
The Council will determine 5-10 base countries for imports of medicine, the lowest prices of the pharmaceutical products sold in the base countries will become standard in Azerbaijan. Medicine packages will have prices inscribed.
President Aliyev further called for the allocation of additional funds for mortgage lending from the state budget by late 2015 in order to develop the real estate market.

"There is a great need in particular to improve the living conditions of young people and other categories of people. I believe that at least 200 million manats, and possibly more should be allocated from the state budget before the end of the year," he said.

President Ilham Aliyev said that there are two approaches to spur growth in the real estate market: the funds will be provided for the purchase of property in existing buildings or new buildings will be constructed. "It is true it would be useful to revive the construction sector with new residential buildings, but it will take some time. Therefore, it would be good to use a synthesis of these two approaches," he said.
The allocation of an additional 200 million manats (over $190 million) for mortgage loans from Azerbaijan's state budget will lead to growth in the real estate market and the development of the construction sector in the country.
In Azerbaijan, the maximum amount for mortgage loans provided via the Azerbaijan Mortgage Fund is 50,000 manats with a rate of eight percent and maturity term of 25 years. The "social mortgage loan," however, is issued in the amount of 50,000 manats with an annual rate of four percent and for a term of 30 years.
Economy shows positive indicators
Economic growth during the first six months of 2015 hit 5.7 percent, the president said.
The non-oil sector grew by 9.2 percent, while inflation held steady at 3.5 percent and the growth rate of incomes of the population hit 6.2 percent. During the six months, 12.7 billion manats ($12.104 billion) was invested in the country's economy, President Aliyev added, stressing that this proves the dynamic development of Azerbaijan.
About 60,000 new jobs were created in the country. In general, 1.4 million jobs, including 1 million permanent jobs were added in Azerbaijan over the past 12 years. Thanks to this, the unemployment rate in Azerbaijan dropped to 5 percent.
"Citizens of Azerbaijan are at the heart of our policy, and no social program will ever be curtailed. On the contrary, we are thinking of new initiatives. This once again shows that Azerbaijan can develop rapidly, even in the crisis years," President Aliyev said.
The head of state stressed that strong economic growth should be maintained throughout the year, pointing to the need for executing public investment programs, along with infrastructure and social projects.
Nagorno-Karabakh conflict
President Aliyev said that still there is no progress in the settlement of the Armenian-Azerbaijani Nagorno-Karabakh conflict.
"Armenia simply boycotts the negotiations and tries to drag out the issue. But the larger the issue is delayed, the more Armenia is exposed to recession. As I said, the country is in deep political, moral, psychological and financial crisis. There are no resources for the development of the country. The economy has collapsed, the industry has collapsed, people are leaving the country, i.e. there are no human resources," he said.
President Aliyev further noted that Armenia and Azerbaijan are at incomparable levels.
"Due to external financial, military and political support, Armenia is keeping our lands under occupation. I have already told this audience that our land is occupied not only by Armenia. Our lands occupied by Armenia's backers, pro-Armenian politicians, anti-Azerbaijani and Islamophobic forces. Can Armenia occupy our lands? We will not leave a stone unturned there in a matter of a week. And this is a reality. I repeat that we live in a real world, take our own measures, and there will come a time when Azerbaijan will restore its territorial integrity. Meanwhile, we are doing all preparatory work in this direction."
Foreign relations in focus
The president also touched upon the issue of Azerbaijan's integration into European governance structures as well as the format for cooperation.
Noting that Azerbaijan maintains equal relations with all countri
es and all international organizations, President Aliyev said Azerbaijan's national interests lie in cooperation with the international agencies.
The president said that some hypocritical western politicians, congressmen, senators, and Islamophobic politicians living off Armenian money, have declared war on Azerbaijan and this stems from jealousy and bad intentions.
"Unfortunately, today, fascism, racism, Islamophobia, xenophobia, anti-Semitism are revived in Europe. That is to say, all of these movements are not against only Muslims," said Aliyev.
Naturally, these are the forces that do not want to see such development from a Muslim country and they have united, said the president.
The president also touched upon the information war launched against the country on the eve and during the First European Games.
Noting that it is the Azerbaijani people and state that got the upper hand in this information war, the president said this campaign and its last stage demonstrated once again that no external force can affect Azerbaijan's will.
Even though a resolution against Azerbaijan was put up for discussion at European Parliament just two days before the start of the European Games, it wasn't adopted, said Aliyev.
This was while the German Bundestag adopted an anti-Azerbaijani resolution as a part of the dirty campaign held to cast a shadow over Azerbaijan's success, the president exclaimed. He added that such resolutions were of no importance to Azerbaijan.
"Nevertheless, we have no problems with European countries in bilateral format," he said, stressing that one shouldn't talk with Azerbaijan in the language of diktat, but could be a friend or partner with the proud nation.
"We are ready for this and will go in this direction further as well," he stated.
--
Follow Gulgiz Dadashova on Twitter: @GulgizD
Follow us on Twitter @AzerNewsAz
Related News