24 June 2015 11:00 (UTC+04:00)
1 561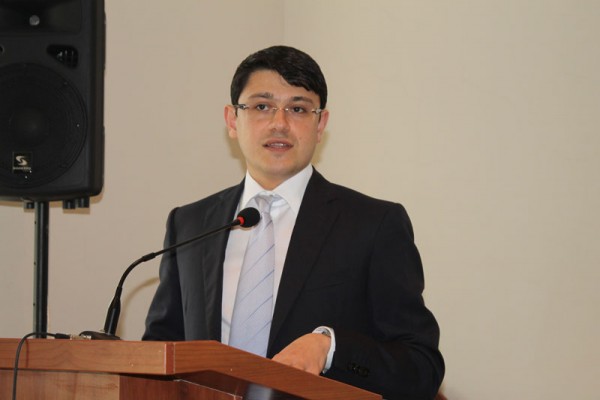 By Sara Rajabova
The reality is that Armenia has never adhered to a specific and unique position, said Fuad Muradov, Azerbaijani MP and co-chair of the Committee of the Euronest Parliamentary Assembly on Energy Security.
Commenting on the Armenian foreign minister's statement about the necessity of Yerevan's choice between Russia and the EU, Muradov told Trend that Edward Nalbadian's statement shows that no choice has been made and in particular, no friendly gesture has been shown to either side.
Muradov said it proves once again that the Armenian cunning is in action and it is always with those who are stronger, Armenia's self-interests always lie with the stronger power."But they do not realize that their true face has been already known throughout the world."
He noted that today Armenia is known and accepted around the world as a country-exporter of instability.
"This can be understood in relation to Armenia's neighbors—Azerbaijan, Georgia, Russia, Iran and Turkey. Armenia, retaining its influence over the Armenians living in the Georgian region of Javakheti, thus constantly exerts a kind of pressure on Georgia. In fact, Armenia at any moment may put forward territorial claims against Georgia. From time to time it is voiced. During ruling of Georgia's ex-president Mikhail Saakashvili, Javakheti Armenians were regarded as separatist forces," Muradov said.
He added that the statements by Armenians regarding their residence in the South Caucasus allegedly over 1,000 years are not serious.
"Armenians have never had a state. Armenia was established at the expense of lands of our ancestors. And now it captured 20 percent of the Azerbaijani territories. Also, Armenia has territorial claims against Turkey. In addition, the Armenian diasporas in Iran and Russia are regarded today as a source of anxiety and insecurity," Muradov said.
Armenia occupied over 20 percent of Azerbaijan's internationally recognized territory, including Nagorno-Karabakh and seven adjacent regions after laying territorial claims against its South Caucasus neighbor, causing a brutal war in the early 1990s.
As a result of the military aggression of Armenia, more than one million people became refugees and IDPs, over 20,000 Azerbaijanis were killed, 4,866 are reported missing, almost 100,000 were injured, and 50,000 were disabled.
Long-standing efforts by U.S, Russian and French mediators have been largely fruitless so far.
The UN Security Council has passed four resolutions on Armenian withdrawal from the Azerbaijani territory, but they have not been enforced to this day.
--
Sara Rajabova is AzerNews' staff journalist, follow her on Twitter: @SaraRajabova

Follow us on Twitter @AzerNewsAz
Related News